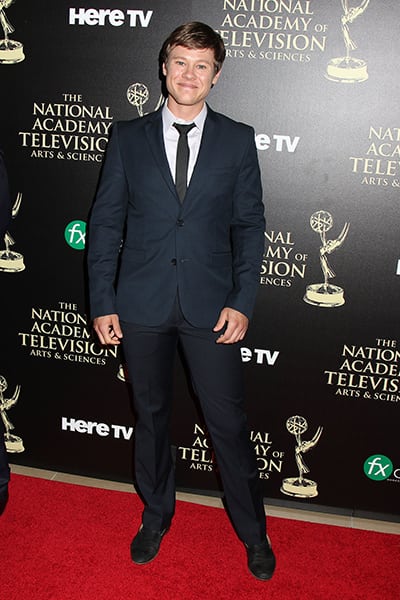 Red carpet fashion is typically about the ladies, but not when it comes to the men of daytime! Soap Opera Network caught up with quite a few dashing dudes during the 41st Annual Daytime Emmy Awards, beginning with "Days of our Lives'" Guy Wilson (Will Horton)!
Soap Opera Network: Obviously, it's a totally different process for a man to get ready than for a woman to get ready, but I'll ask anyway: Who are you wearing?
Wilson: Well generally, my go-to brand is Top Man from Top Shop, and I like it just because their cuts naturally fit my body type. I kind of have more like a soccer player's body, so I like it. I like British fashion. I think the Brits have it right.
So what have you done all day leading up to this moment?
Well I was kind of guilty — I slept in pretty late, because I'm hoping to have fun tonight and stay up late, so I woke up, got of bed, headed over to the studio where we shoot, and did some hair and makeup, went home and did some Tweeting, did some ironing and then did a little cat hair rolling to get the cat hair off.
Aw, you have a cat?
I have two, yeah. Dogs are great, but I'm kind of a cat person.
That's awesome! What are their names?
The male is named Tybalt from Romeo and Juliet, and then the female is named Lumis, and that was her name when I got her; she was a rescue.
Who do you think deserves to take home an Emmy tonight?
Well I am putting all of my heart and soul into Eric Martsolf (Brady Black) for Supporting Actor. I am a huge fan of his, and having had the opportunity to work with him these past nine months, I've learned a ton. And not just about acting, but also leadership on set. He's a wonderful man, and a family man, so I'm definitely rooting for him.