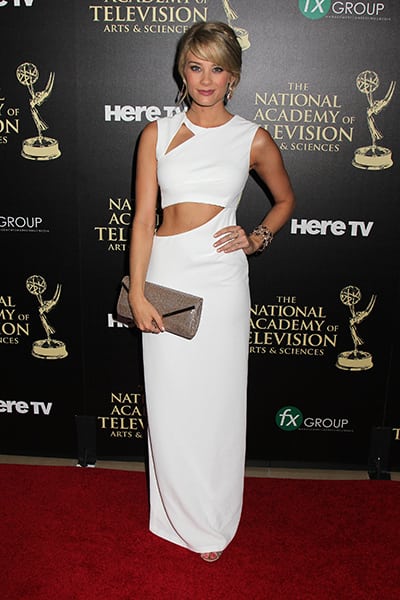 "The Bold and the Beautiful's" Kim Matula (Hope Logan) was nominated for Outstanding Younger Actress during the 41st Annual Daytime Emmy Awards, but that wasn't all that made the actress shine while she walked the red carpet. Read on to find out why she was practically glowing!
Soap Opera Network: You told me you'd be sexy on the red carpet, and you sure delivered!
Matula: Yeah, it is sexy and kind of Grecian. I like it!
The designer is BCBG, correct?
Yes, this is BCBG, and you know, I've never worn white before, and I wanted something that was kind of sexy and fitted, and I thought this was perfect.
So what did you do today leading up to the red carpet?
I laid in bed as long as I could this morning. I got out of bed at like 11:30 and then jumped in the shower and started getting ready. Well, my boyfriend surprised me with breakfast in bed. I woke up and he had gone to the grocery store, and I woke up to him saying "Good morning!" and giving me breakfast.
That is so sweet! What did he make for you?
Well when we were [filming] in France last week, all I ate for breakfast was lox and mozzarella, and that's all I've been wanting in my life lately, so he went out and got me lox and mozzarella balls and some Starbucks. He's amazing.
I'll say! What a great way to start your day, too!
It was perfect.
That is the breakfast of real champions.
Exactly!
Do you have any good luck charms on you tonight?
Nope, no good luck charms. I've been in a very positive mood all day, and I think that's maybe good.
Are you nervous?
I'm not that nervous. Not right now. I'm so focused on doing the red carpet and getting through this without sweating! That's what I'm focusing on, and then I'll move on to the next.
Obviously, besides yourself, who do you think should take home an Emmy tonight?
Oh my gosh, I would love for everyone on our show to take home an Emmy. But you know, Linsey [Godfrey, Caroline Spencer] is nominated in the same category, and Heather [Tom, Katie Logan] and Kelly [Katherine Kelly Lang, Brooke Logan] are nominated in the same category, so it makes it hard! I would love to see all of us win. And Scott [Clifton, Liam Spencer], I'd love to see Scott win tonight as well, obviously.
Why would you say your show deserves to take home the award for Outstanding Drama Series?
Oh my gosh, we work so hard. We work really hard on our show, and we travel a lot. We put a lot into that, a lot of thought into us traveling, and I think it means a lot to all of the countries that we air in, and I think that's definitely something to look at.