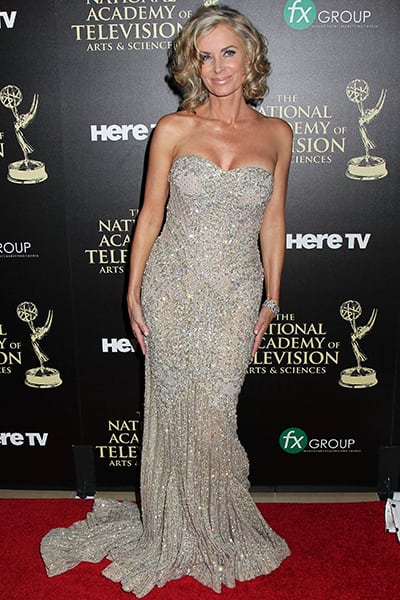 Eileen Davidson — who's now on contract as Ashley Abbott on "The Young and the Restless," but was nominated as Outstanding Lead Actress for her work as "Days of our Lives'" Kristen DiMera — took a cue from the statue she ended up winning at the end of the night. Just like the golden award, she sparkled on the red carpet during the 41st Annual Daytime Emmy Awards.
Soap Opera Network: Who's the designer of this stunning gown?
Davidson: Falguni and Shane Peacock, out of India.
What made you choose this dress out of all of the dresses in the world?
I put on a lot of different dresses, and when I put this one on, I thought, "This is it." Hands down.
I can see why! It's stunning.
Thank you.
Can you walk me through your day today leading up to the red carpet?
Well I woke up around 6:00.
That's so early!
I know; I always wake up really early. And then I made breakfast for my husband and one of my sons, I worked out, and then I packed the car, came here early, watched a movie and had room service. And then I had hair and makeup come.
Nice and relaxing!
I know! It was wonderful.
What movie did you watch?
Bad Words with Jason Bateman.
Hilarious. So you didn't hit any snags getting ready? Lucky woman!
Yes, it was pretty smooth. I was afraid I wouldn't be able to go to the bathroom, but I can, so all is good!