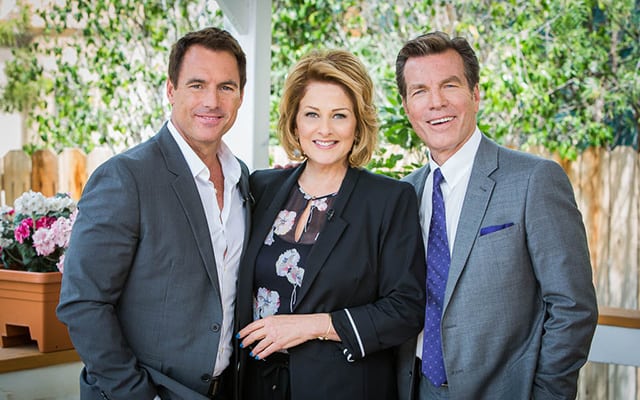 On Wednesday, May 7, "The Young and the Restless'" Peter Bergman (Jack Abbott) will appear on Hallmark Channel's "Home & Family," the popular daily late morning talk show hosted by Cristina Ferrare and Mark Steines.
Bergman, who received his 19th Daytime Emmy Award nomination last week for his role on the CBS Daytime soap spoke with the hosts about his favorite part of working on daytime television, which are the love scenes!
"My favorite part are love scenes," said the veteran daytime star with slight hesitation in a video clip from the episode airing tomorrow. "Think about it," he begins. "… How many times in your life have you fallen in love? Relatively few given how long we've been on this earth." He adds, "I get to keep revisiting this… The kisses are absolutely free, my wife knows about it, [and] it can lead nowhere, but you get to kind of play with the falling in love thing. The finding fascination in somebody. I get to play a character who wakes up thinking about this person, who gets to sleep thinking about this person, and it's a memory for me of when I did this with my own wife."
For more from the actor including a breakdown on how many times Jack has fallen in love and has been married, catch his appearance on "Home & Family" on Wednesday, May 7. The talk show airs Mondays through Fridays from 10:00 AM-12:00 PM ET/PT on Hallmark Channel.