CENTER STAGE: 'Home & Family's' Mark Steines On Soap Operas, Love Scenes and Getting Slammed By Oprah!
Courtesy of Mark Steines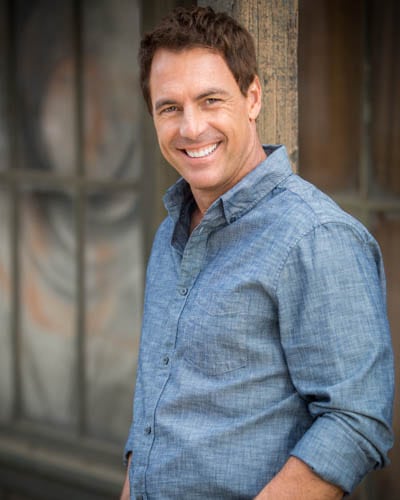 Hallmark's beloved talk show "Home & Family" has featured so many soap star guests, it's a wonder it's not up for Outstanding Drama Series in this year's Daytime Emmy race. With everyone from "Days of our Lives'" Deidre Hall (Marlena Evans) to the "Young and the Restless'" Peter Bergman (Jack Abbott) and Eric Braeden (Victor Newman) dropping by, it's pretty much par-for-par with Salem, Port Charles and Genoa City. Though, as former "Entertainment Tonight" personality and current "Home & Family" co-host Mark Steines would tell you, the set is anything but something you'd see on a typical daytime drama.
"This is not Victor Newman's living room," he says with a smile before joking, "But there have been a few crimes committed here. Maybe a murder or two and an affair…"
Joking aside, the Iowa native shared with Soap Opera Network that he's very proud to be a part of "Home & Family," which — though peppered with soap stars — is quite different from the tabloid/A-list celebrity driven world he experienced while hosting "ET." "I traveled around the world, I had great accommodations, 'ET' was wonderful in the way they treated me," he explains. "But I'd be sitting with the Hugh Jackmans, who are great, the big stars, the Cameron Diazes, but you get a fleeting moment with them. You sit and you have seven minutes, and they go and you're like, 'Ok, back to Heathrow [Airport],' and I have to get back on a plane and fly back for that?'"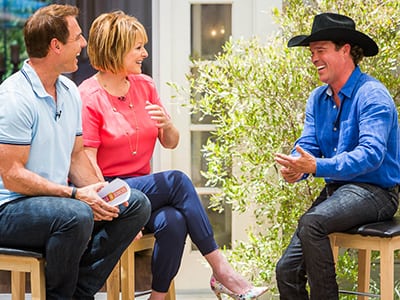 "Here, you get people like [country singer] Clay Walker, who comes back time and time again, or we'll have soap stars, all varieties of celebrities, who are not on that upper, outer crust that everybody 'oohs' and 'aahs' over. But they're still talented and gifted artists that maybe don't get all of the attention, because they're overshadowed by the Adam Sandler that they're co-starring with, and they come and they spend time," he continues. "Today's visit by Clay Walker was a great example: Here's a legit recording artist, a country star, huge in his own right, and we start talking about gardening, and he's like, 'You know, I'm an organic gardener.' You see all of a sudden what you tap into, and it's the fabric of America: It's family."
In fact, everything about "Home & Family" — from the content to the real-life house that serves as the show's set — is meant to bring the same feeling of familiarity and comfort that one gets from the show's title elements. "Instead of having a sound stage that's designed for TV production, and you create a fake house in it, we created a real house and then put cameras in it," Steines says of the set. "I think when people come in, sometimes, especially if they're a big star, they're like, 'Well, this is kind of hokey.' Because they look at it, and it's like, 'Eh,' because they're used to everything with this sort of shine and polish on it. Well, that's not the way America is. We want the set to feel like someone is tuning in and seeing their home. Like with Nascar, as soon as Nascar started making the vehicles look like cars that people drove, people went crazy. They started going, 'That's my Trans-am' or 'That's my Camero.' And that's what we are hoping to do. I mean, whose home looks like 'The Talk' or 'The View?' Nodbody's. We have it nice and cozy, and sometimes we bring an audience in. It's really charming, it's not massive. And these people want to be here. They sign up to be here. And it's nice."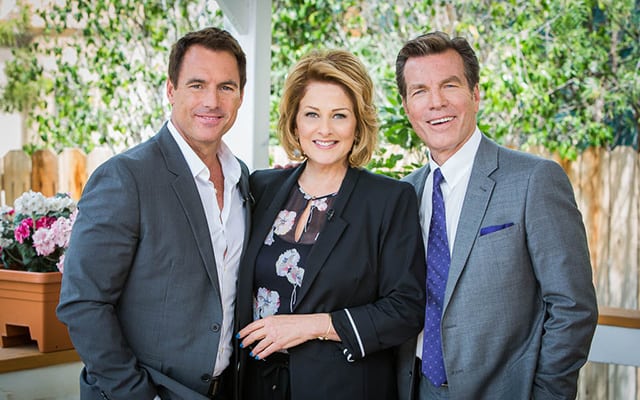 Generally, the homey feeling on set creates a super relaxed atmosphere — meaning the guests (soap stars included) feel comfortable enough to let loose and be their true selves with Steines and co-host Christina Ferrare. And speaking of soap stars, Steines has been particularly impressed with the actors who've visited from daytime dramas. "We had Peter Bergman on here, and you hear the hours that these people work, and he was here on his break from shooting, essentially, and he came over the hill and does this and leaves and goes back to work, and he's been doing this for 35 years!" he explains. "I have such respect for [soap opera actors], because they really are the working class actor. They go to work, they have a ton of copy to memorize, they go in, they knock these scenes out, and it's just a factory, what they do. And unfortunately, sometimes they're the punch line for people, and I don't feel that way; when you live a life a life on camera like these guys do, if you're fake for 35 years, you're really good."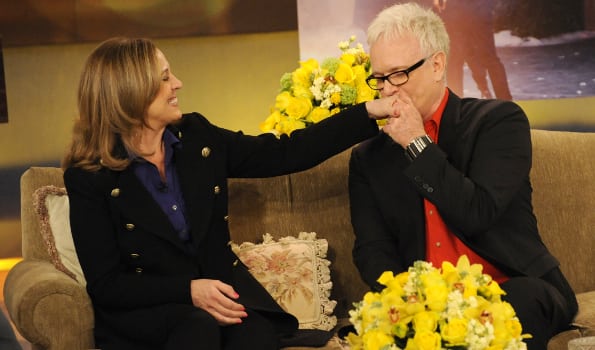 Though the TV host doesn't have a favorite soap, he admits that he was a bit obsessed with "General Hospital" back in the day. "Everybody followed the Luke (Anthony Geary) and Laura (Genie Francis) storyline," he says with smile. "I mean, I would cut classes in college for that. It was crazy."
Therefore, when the chance to guest-star on a daytime drama came up during his "ET" days, Steines — who also dabbles in acting and will be appearing at the White Fire Theater in Sherman Oaks, California, this summer — jumped at the opportunity. "I did go in to read and had a really good audition," he recalls. "But I think they wanted a commitment for a 10 episode run, so I couldn't do it."
However, his current schedule is more flexible, so perhaps the opportunity will come again. And if it does, what role would most entice him? "I've always heard about how awkward romance scenes are. Maybe I'd try one of those on for size," he says with a grin. "I'm single now, so maybe I could do that and not feel guilty about it!"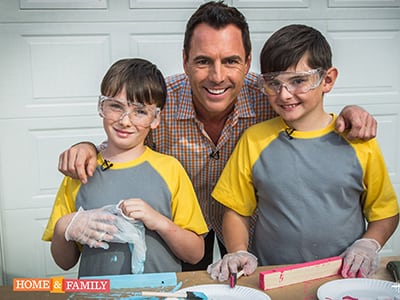 Yes ladies, you read that right: Steines is newly single, having split from former "ET" correspondent and Miss America 1993 Leanza Cornett early last year. So now, when he's not working, he's making sure their sons, Kai (12) and Avery (10), are well taken care of. "It's really important to me that they come out the other side of this knowing that they're loved, they're cared for and they matter and they don't get lost in the noise of all of it," he shares. "I think the important thing for me is to spend time with them, because my time is limited, the way it is. I was actually going through some footage to share on ['Home & Family'], and I'm like, 'Wow, they're growing so fast.' And I decided that the greatest gift is to give them time. They have every gadget they want… so the greatest gift is spending time together doing something where we can laugh and have a great time."
Speaking of time, Steines doesn't have a ton of it. But before he had to jet off, we had to know if, in his nearly 20 years of entertainment journalism, he's ever been star struck. "I want to be all macho and be like, 'Oh, I don't get star struck,' but I think on the flip of that, I've learned how to manage that sort of, 'Oh my god, there's Brad Pitt. He's sitting right there!'" he says, adding that one of his most intimidating interviews was with Oprah, Tina Turner and Cher — all at the same time! "I sat there, and I'm close to Cher, so she could cut through my crap in a heartbeat, Oprah is one of the greatest interviewers of all time, so I'm thinking 'She's judging every question I ask! Am I really listening? Are there truly follow ups there?' and Tina was the wild card, because she would just say anything, because she just didn't care, she didn't have to. And it was a raucous fun. But the real twist came when you have to shoot that promo at the end, and you have to stand [in front of the cameras and say something like] 'I'm here with three women, big names, big stars, big whatever,' and then Oprah was like, 'Really, that's the best you could come up with?!' She totally slammed me! But she was really sweet about it."