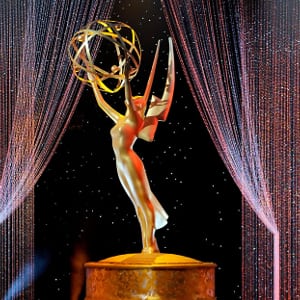 Earlier today the National Academy of Television Arts & Sciences, in cooperation with the Academy of Television Arts & Sciences, announced the Drama Performer Pre-Nominations for this year's Daytime Emmy Awards.
All entrants that submitted this year were judged by their peers via an online ballot. Eligible judges viewed clips containing work of each performer and were required to select their top 10 performer choices. In the case of the Outstanding Lead Actress and Outstanding Supporting Actor categories, there were ties this year that resulted in more than 10 pre-nominees.
The candidates below will now advance to the blue ribbon screening round, which will determine both nominees and recipients. The final nominations will be announced May 1.
OUTSTANDING LEAD ACTRESS IN A DRAMA SERIES
SHARON CASE, as Sharon Newman
"The Young and the Restless", CBS
JESSICA COLLINS, as Avery Bailey Clark
"Y&R", CBS
EILEEN DAVIDSON, as Kristen DiMera
"Days of Our Lives", NBC
FINOLA HUGHES, as Anna Devane
"General Hospital", ABC
KATHERINE KELLY LANG, as Brooke Logan
"The Bold and the Beautiful", CBS
KELLY MONACO, as Sam McCall
"GH", ABC
ALISON SWEENEY, as Sami Brady
"DAYS", NBC
HEATHER TOM, as Katie Logan
"B&B", CBS
JESS WALTON, as Jill Abbott Fenmore
"Y&R", CBS
MAURA WEST, as Ava Jerome
"GH", ABC
LAURA WRIGHT, as Carly Corinthos
"GH", ABC
ARIANNE ZUCKER, as Nicole Walker
"DAYS", NBC
OUTSTANDING LEAD ACTOR IN A DRAMA SERIES
MAURICE BENARD, as Sonny Corinthos, Jr.
"GH", ABC
PETER BERGMAN, as Jack Abbott
"Y&R", CBS
DOUG DAVIDSON, as Paul Williams
"Y&R", CBS
ROGER HOWARTH, as Franco
"GH", ABC
CHRISTIAN LEBLANC, as Michael Baldwin
"Y&R", CBS
JOHN MCCOOK, as Eric Forrester
"B&B", CBS
JASON THOMPSON, as Patrick Drake
"GH", ABC
BILLY MILLER, as Billy Abbott
"Y&R", CBS
JAMES SCOTT, as EJ DiMera
"DAYS", NBC
SHAWN PATRICK CHRISTIAN, as Daniel Jonas
"DAYS", NBC
OUTSTANDING SUPPORTING ACTRESS IN A DRAMA SERIES
TRACEY E. BREGMAN, as Lauren Fenmore Baldwin
"Y&R", CBS
MELISSA CLAIRE EGAN, as Chelsea Newman
"Y&R", CBS
JANE ELLIOT, as Tracy Quartermaine
"GH", ABC
NANCY LEE GRAHN, as Alexis Davis
"GH", ABC
AMELIA HEINLE, as Victoria Newman
"Y&R", CBS
ELIZABETH HENDRICKSON, as Chloe Fisher
"Y&R", CBS
LISA LOCICERO, as Olivia Falconeri
"GH", ABC
KIMBERLY MCCULLOUGH, as Robin Scorpio Drake
"GH", ABC
KELLY SULLIVAN, as Connie Falconeri
"GH", ABC
CYNTHIA WATROS, as Kelly Andrews
"Y&R", CBS
OUTSTANDING SUPPORTING ACTOR IN A DRAMA SERIES
ROBERT ADAMSON, as Noah Newman
"Y&R", CBS
BRADFORD ANDERSON, as Damien Spinelli
"GH", ABC
BLAKE BERRIS, as Nick Fallon
"DAYS", NBC
SEAN BLAKEMORE, as Shawn Butler
"GH", ABC
DARIN BROOKS, as Wyatt Fuller Spencer
"B&B", CBS
STEVE BURTON, as Dylan McAvoy
"Y&R", CBS
SCOTT CLIFTON, as Liam Spencer
"B&B", CBS
WILLIAM DEVRY, As Julian Jerome
"GH", ABC
WALLY KURTH, as Justin Kiriakis
"DAYS", NBC
ERIC MARTSOLF, as Brady Black
"DAYS", NBC
GREG RIKAART, as Kevin Fisher
"Y&R", CBS
GREG VAUGHAN, as Eric Brady
"DAYS", NBC
DOMINIC ZAMPROGNA, as Dante Falconeri
"GH", ABC
OUTSTANDING YOUNGER ACTRESS IN A DRAMA SERIES
KRISTEN ALDERSON, as Kiki Jerome
"GH", ABC
CAMILA BANUS, as Gabi Hernandez
"DAYS", NBC
LINSEY GODFREY, as Caroline Spencer
"B&B", CBS
CHRISTEL KHALIL, as Lily Winters Ashby
"Y&R", CBS
HUNTER KING, as Summer Newman
"Y&R", CBS
KATE MANSI, as Abby Horton Deveraux
"DAYS", NBC
KIM MATULA, as Hope Logan
"B&B", CBS
KELLEY MISSAL, as Danielle Manning
"One Life to Live", TOLN.com
ASHLYN PEARCE, as Aly Forrester,
"B&B", CBS
DENYSE TONTZ, as Miranda Montgomery
"All My Children", TOLN.com
OUTSTANDING YOUNGER ACTOR IN A DRAMA SERIES
CORBIN BLEU, as Jeffery King
"OLTL", TOLN.com
BRYAN CRAIG, as Morgan Corinthos
"GH", ABC
CHAD DUELL, as Michael Corinthos
"GH", ABC
MAX EHRICH, as Fenmore Baldwin
"Y&R", CBS
ADAM GREGORY, as Thomas Forrester
"B&B", CBS
CHANDLER MASSEY, as Will Horton
"DAYS", NBC
CASEY MOSS, as JJ Devereaux
"DAYS", NBC
ERIC NELSEN, as AJ Chandler
"AMC", TOLN.com
DANIEL POLO, as Jamie Vernon
"Y&R", CBS
FREDDIE SMITH, as Sonny Kiriakis
"DAYS", NBC