Real-life friends Brittany Underwood (ex-Langston Wilde, "One Life to Live"; "Hollywood Heights") and Kristen Alderson (Kiki Jerome, "General Hospital") have teamed up with PimpMyPooch.com, the new daily deal site for dogs, by lending their name to help support the company's IndieGogo crowd funding campaign set to launch on Thursday, May 1. The website is seeking potential backers to help it operate in similar fashion to deal-of-the-day websites such as Living Social and Groupon with deals focused exclusively on products and services for dog owners.
"Pets are members of the family and pet parents today want the very best for their four-legged friends. But as any pet owner knows— the cost of providing for Fido can get expensive very quickly," said CEO and Founder Jordan Ancel. "Our goal is to provide customers with the best products and services at a great value."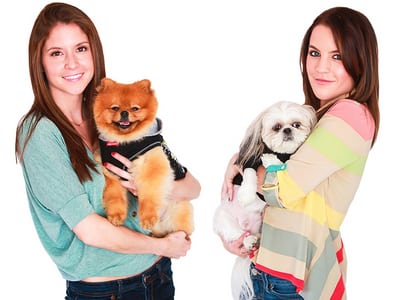 According to the American Pet Products Association, Americans spent $55.7 billion on their pets in 2013, and that number is likely to hit $60 billion this year. With that in mind, PimpMyPooch.com is working with a number of nonprofit animal welfare organizations and the ultimate goal of the company is to raise funds to help dogs in shelters and rescue groups. "Brittany and Kristen share my passion for rescue and I am so honored to have them on my team using the power of the media and social media to help raise awareness for our pending launch and IndieGoGo crowd funding campaign that seeks to raise $75K," said Jordan.
PimpMyPooch plans to set itself apart by ensuring that merchants make the most money possible through higher payouts than either Groupon or Living Social and by incentivizing businesses to run frequent deals. "We have a built-in payout structure that can earn merchants up to 90% of deal revenue the more they place deals with us, and, as crazy as it sounds, they have the opportunity to receive 100% of earnings from deal purchases. We are committed to everyone winning, from consumers to vendors to dogs," Jordan explains.
To help back the  campaign, make sure to visit its IndieGogo crowd funding website located at http://igg.me/at/pimpmypooch beginning Thursday, May 1.
For more information, visit www.pimpmypooch.com.