While "The Bold and the Beautiful" is bringing awareness to pet adoption with the recent Liam (Scott Clifton) and Hope (Kim Matula) cat rescue storyline, "The Young and the Restless'" Melissa Claire Egan (Chelsea Newman) is championing for animals during Pet Cancer Awareness month in a different way: By being involved in and spreading information about the Riedel and Cody Fund, which provides funding and support for people whose pets have been diagnosed with cancer and can't afford treatment.
"I went to an event called the 12 Million Dog March that they had in a park in Los Angeles, and I brought my dog, Sophia, and Chrishell [Stause, Jordan, "Days of our Lives") brought her dog, Presley, and it was a great event, but it wasn't until that event that I realized the real purpose of the charity," Egan says of how she originally got involved in the cause. "They enlightened me to the fact that 12 million dogs and cats every year get diagnosed with cancer, and being an animal lover and having my own dog whom I love so much, I was just so saddened by that number. It shocked me, and I just couldn't believe those statistics. I thought, 'Gosh, how tragic,' because it's so expensive, that a lot of times, families can't afford to give their animals the care they need, and I can't fathom having to put my dog down or see them suffer because of a terrible disease, so I just wanted to get involved in every way possible.
"It breaks my heart," she continues. "So I was amazed that the Riedel and Cody Fund helps raise money for the families and helps give them the money they need for the medicine, for the chemo and for the scans and everything that the animals need for their veterinary care. They basically help save these animals' lives, and in turn, save the families from losing their beloved dog or cat, so I just thought it was incredible."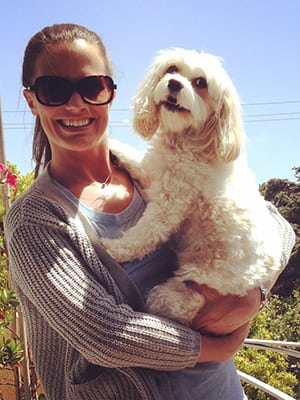 Considering that animals often times become real members of the family, it's no surprise that the actress views Sophia like a daughter. And, as she explains, becoming her mother was almost kismet. "I was meant to be her mom," Egan states. "I always say she's a rescue, but from the store: I was walking home from work one day, and I never planned on having a dog, but I was walking home in New York City, and for some reason, I took 9th Avenue instead of 10th Avenue, and I don't know why, it doesn't really make sense. But I walked by this window, and there was this little puppy, and I just was like, 'Oh my gosh!' So I went in and I held her for like 30 minutes, but then I gave her back to the guy and I said, 'Oh, she's just beautiful, but I've never had a dog, and I can't really have a dog, I work all the time.' And I just saw him put her back in the window as I started to leave, and I just ran back in and said, 'I'll take her, I'll take her, I'll take her!!' So that's why I say it was kismet; she was meant to be mine, because it was just a random Friday walking home from work and I just fell in love with her. It was meant to be."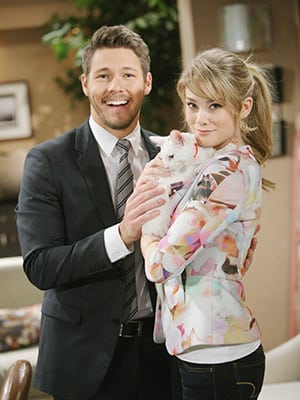 Being such an animal lover, Egan admits she was a bit jealous upon hearing the news that "B&B" was doing an animal rescue story. "I think it's amazing, and it's such a great thing to talk about and spread, but I was so jealous watching them playing with all of those animals!" she exclaims. "They're so sweet. I want to hold them at work, too!"
That may not happen any time soon, but upon hearing that Clifton had adopted the cat used for the "B&B" storyline in real life (which you can read more about here), Egan said she hopes to do the same. "Oh, I love hearing that!" she exclaims. "My fiancé, Matt [Katrosar] and I are hoping to move into a house some day soon, and we can't wait to adopt a bunch of dogs and just have a farm in the backyard."
In the meantime, the actress will continue to dedicate her time to the Riedel and Cody Fund, as well and the 12 Million Dog marches that will take place in the future. "Mark, who started the charity, will email me and say, 'After you did this or that or you went on the news to talk about it, our numbers went up,' and he sent me one recently that said, 'You helped save dogs' lives,'" she recalls. "It literally gave me goosebumps. I wanted to cry! It's such an important thing that means a lot to me. Pets are our family members, so I want to be able to help them in any way possible. So it's really good to bring awareness and try to help these people and help these animals."
For more in the Riedel and Cody Fund, including personal stories from families whose animals and have been helped as well as info on how to donate, check out the charity's official website.