Yesterday the Lifetime Network announced a premiere date and cast for the sequel to its successful adaptation of V.C. Andrews' iconic (and controversial!) book "The Flowers in the Attic." The sequel, titled "Petals on the Wind," is based on the second novel in the series and will continue the story of the Dollanganger children a decade after they escaped the attic where they were locked away by their mother and grandmother.
Heather Graham ("Boogie Nights") and Ellen Burstyn ("Requiem for a Dream") will reprise their roles as the Dollanganger mother and grandmother, respectively, and former "As the World Turns" star Dylan Bruce (ex-Chris Hughes) will return as Corrine's second husband Bart.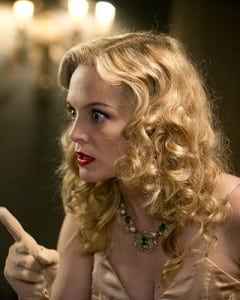 "Flowers in the Attic" told the story of mother Corrine (Graham), who is left with nothing after her husband and father of her four children is killed in a car accident. Unable to support her family on her own, Corrine sought help from her parents, both of whom had shunned her because of her marriage. Corrine's father was very ill though and Corinne, along with her mother (Burstyn), tricked him into thinking she never had children by hiding all four children in the home's top bedroom. Now in the care of their ruthless grandmother, the four children went through a tumultuous series of events, ending in tragedy and plans for revenge.
The sequel "Petals on the Wind" picks up a decade later, where the children are trying to put their sordid past behind them. According to Lifetime, "when tragedy strikes the Dollgangers once again, Cathy returns to Foxworth Hall to confront her grandmother and seek revenge on her mother with a plan to seduce her husband Bart (Bruce)."
The actors that played the children the first time around (including "Mad Men's" Kiernan Shipka) won't be returning as the events in "Petals on the Wind" age the characters by ten years. Stepping into the roles of older Cathy, Chris, and Carrie will be Rose McIver ("Once Upon A Time"), Wyatt Nash ("Hollywood Heights"), and Bailey Buntain ("Bunheads").
Making the sequel was a no-brainer for Lifetime – the January 18th debut of "Flowers in the Attic" garnered 6.1 million total viewers, making it ad-supported cable's most-watched original movie since 2012. After the Lifetime premiere, the "Flowers in the Attic" novel (originally released in 1979) returned to the bestsellers list. Lifetime has also announced its intentions to produce three more TV movies based on V.C. Andrews novels, including two additional "Flowers in the Attic" sequels.
"Petals on the Wind" will premiere on the Lifetime Network on Memorial Day Monday, May 26th at 9 PM PT/ET.