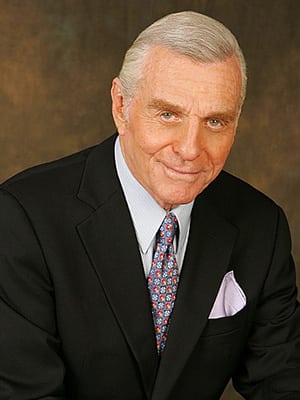 Following Eric Braeden's interview with Radar Online, Jerry Douglas has also spoken out on Michael Muhney's firing from "The Young and the Restless" and the subsequent scandal surrounding said firing. "I think Bill Bell ["Y&R" creator] would be turning in his grave," the actor tells RumorFix.com in an interview published today.
Portraying the ghost of John Abbott on the soap, Douglas says, "[Muhney] was very respectful with me telling me how much he admired my word [Editor's Note: RumorFix used "word" when it likely meant "work"] and all of those nice compliments."
Backing Braeden's statements on the behind the scenes battles with Muhney, who portrays Adam Newman on the series, Douglas adds, "I watched him work a couple of scenes with Eric Braeden [Victor Newman] and there were a lot of battles that went on there that were unnecessary. Eric is an old pro and does good work. This guy seemed to be high strung and emotional. He would just blow up in the middle of the scene for things that aren't that important."
Commenting on the situation surrounding allegations that Muhney groped the breasts of co-star Hunter King, Douglas notes, "[Hunter] is an adorable girl… To do a thing like that to a woman is despicable and unacceptable. It's sad."
For more from Douglas's interview with RumorFix, click here.