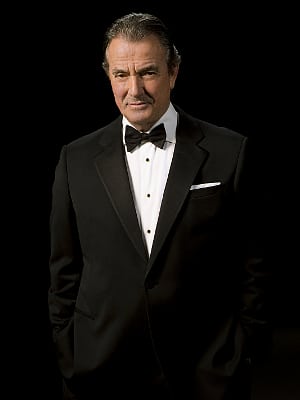 While several actors from "The Young and the Restless" have indirectly acknowledged the scandal surrounding Michael Muhney's (Adam Newman) firing last month and subsequent allegations he groped the breasts of Hunter King (Summer Newman) via social media, no actor has acknowledged the situation as publicly as the legendary Eric Braeden (Victor Newman).
As many of you know, following Muhney's exit interview with Huffington Post Canada, published the day after announcing he had been fired by the soap, there were insinuations that Braeden was likely at fault for not just Muhney's firing but that of former "Y&R" actress Maura West (ex-Diane Jenkins; currently playing Ava Jerome on "General Hospital"). On Twitter, Braeden said at the time, "Implying I had [something] to do with MWest's departure is libelous!" He added, "Of course I am [upset]. Wouldn't you be if some slimeballs make statements that reflect not an iota of reality?"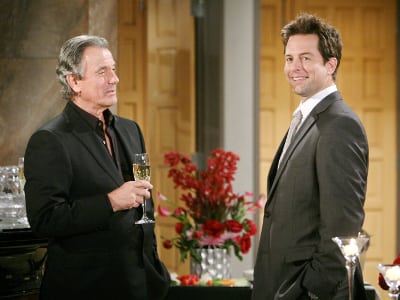 In an interview with Radar Online, Braeden further addresses the situation by saying, "I welcomed Michael Muhney when he came here. He is a great actor. We did have our differences, but for anyone to say that I had him fired is a lie. I have always thought he was a very good actor and told him so. Towards the end, Muhney and I did have our differences and had a shouting match, no question.
"During that shouting match, all kinds of things were said. I won't go into detail about it. I don't remember the specifics of who said what but what I do recall is that I was prompted to get into 'fisticuffs' with him because he wanted me off the show, if you want to know the truth. That is about as far as I will go. That is it. It was a campaign to get me off the show. It was Muhney who wanted to get me off the show and he expressed that to various people."
When asked why Muhney wanted him off the show, Braeden says, "He wanted me off the show because he wanted to be head honcho. In his words, I was the old lion and he was the young lion. He wanted to push aside the old lion. That was in his words to me, at the very end. I welcomed that guy, as I said. (I told him), 'You are very good at what you do, keep your nose clean and stay out of everyone else's business and just do your job.'" He notes of Muhney's ouster, "He has no one else to blame but himself and he said as much when he left… to several people and I respect that he did that. He apologized for his ambition and his desire to become the guy, the young lion, pushing away the old lion. The last day he was here, he apologized to me, you bet. He was contrite and apologized for several things that he had said and done. I said it's okay. The essence of what we learn as Christians is to forgive and one forgives. I have forgiven him, I always told him that openly."
Commenting on Hunter King and the allegations surrounding her and Muhney, Braeden says, "I hardly know the girl. I just don't know people's names until they have been here for 10 years. She is a sweet girl and a damm good actress. The notion that Hunter King came to me and was coaxed by me to go to the top [to get Muhney fired] is utter nonsense. The rumor mill is being fed with misinformation, by whoever."
For more from Braeden's interview with Radar, click here.