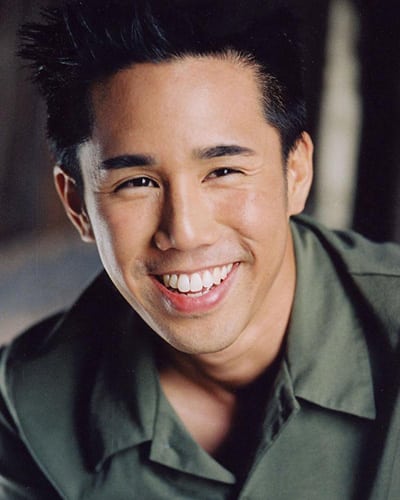 If you tuned into today's episode of ABC's "General Hospital" you saw two huge reveals for the character of Brad Cooper, portrayed by actor Parry Shen. In one, it was revealed that Brad and Lucas Jones (Ryan Carnes) slept together after drowning their sorrows at the Floating Rib bar. In the other, it was revealed that Brad's real father is Kim Wu from the 1980's Asian Quarter storyline, which is famously remembered in flashbacks when a young Robin Scorpio (Kimberly McCullough) runs to the awaiting arms of her mother Anna Devanne (Finola Hughes). In fact, the scenes were recently aired when Robin once again reunited with her mother last year. In light of all the action and the drama, Soap Opera Network spoke with Shen about the huge storyline twists and turns that the soap was able to keep secret right up to the conclusion of today's episode.
"Felix [Marc Anthony Samuel] and Brad had a big fight and he's depressed at the bar hanging out, and Lucas has just found out about Julian [Jerome, William deVry] being his father and he's also depressed, so we end up being in the Floating Rib together and I've had a bad day," says Shen setting up the scene for how Brad and Lucas first meet. "Lucas is like, 'I bet I've had a worse day… I've just met my biological father!' Brad then reveals to him that his biological father was a gangster."
For those wanting a little bit of background on Brad's parentage, Shen did his research. "In 1985, there's this huge storyline – tons of Asians involved – the guy who was kind of running the whole show was [Brad's father] Kim and his grandfather… Lucas and Brad ended up bonding because no one understands [them]. Not many people have mob families as parents, so from the get go we're kindred spirits because we know what it's like." On how this revelation provides viewers with another perspective on his character, Shen says, "You start seeing another side of Brad. Even though you know he's kind of a prick, he's [also] kind of ashamed of his dad because he took it to a whole new level where it's about murdering and stealing from people who are weak and Brad just doesn't want any part of that. Deep down he's a human being. He's not getting into the family business. He's been adopted – he was bullied. We get to see why he turned out to be the way he is."
With Lucas and Brad's recent hookup, one has to wonder where that leaves the burgeoning relationship between Felix and Brad as Lucas has all but staked his claim on his kindred spirit. "I don't know about the triangle situation because we haven't done anything in terms of Felix. The only triangle is Lucas really likes Brad and Brad likes both of them. We can consider that the triangle," says Shen of the different facets in which the storyline looks to be headed. Funny enough, when word broke that Lucas was heading back to Port Charles, fans immediately thought Lucas would be hooking up with Felix. "'Oh, watch out Brad… Lucas is coming. Lucas and Felix are going to hook up" recalls the actor of comments made on message boards around the time Carnes' casting hit. "I'm like, 'well I don't think so. Either you're going to be really surprised or pissed off!'"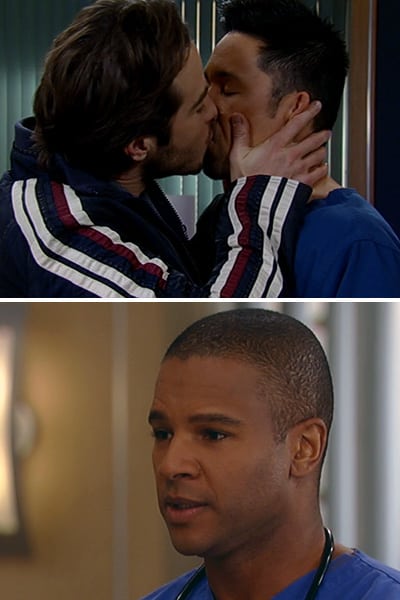 On the differences of working with Samuel and Carnes, Shen says, "Marc is kind of like my buddy on the show and in real-life too because we have a lot of our scenes together, but also because we like to work in a similar fashion. We like to run [lines] a lot beforehand so that once we're ready to role, we just play. The first day being on the set [Marc] remembered what it was like being the new guy and he knocked on my door and came to me and said, 'hey, you want to run?' Teresa [Castillo, Sabrina] did too – they're really good friends. He's been great." On Carnes, the actor says, "Ryan's a pro and he works differently from Marc. It makes it almost easier because when I was starting to have a lot of scenes with Ryan, and not with Marc, I did feel like I was cheating on Marc… the way Brad is cheating on Felix on the show. I kinda miss being with Marc, but it's also fun with this new guy too. The way Brad interacts with Lucas is a very different kind of connection than with Felix."
While his storyline is just getting started, Shen is enjoying the time he's had on "GH" more than he ever expected, especially since he's never done a soap opera before. "It found me at the right time in my career," the actor shares. "I have been doing this [acting] for about 16-17 years and I've done almost every single medium… I've even published two books! I thought I'd seen it all. Nothing really surprised me anymore. A soap is usually somebody's first gig, and I don't know how they do that and survived. It's taking every trick up my sleeve just to keep up with the pace and be prepared to do only one or two takes. I think I would be extremely overwhelmed if I were just a new actor doing this," he says. Adding, "It kind of knocked me on my ass in a good way and made me excited because it was challenging." Noting the similarities between a soap opera and a primetime sitcom, the actor says, "The last time I did a sitcom with multi-cameras was in 1997 – a lot of things are single-camera now. I didn't know where to look because my script was always in sight. I thought I hid it well on set and their like 'nope, camera 3 is getting it over there.' So for the first two weeks the [assistant director] was like, 'hide your script in the drawer or something.'" On why he chose the "GH" gig, he says, "I was kind of getting bored and looking for something new. Something to challenge me and get me scared."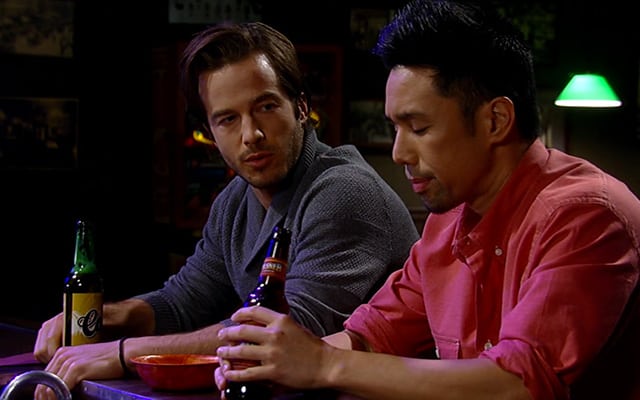 Speaking of being scared, one of the biggest acting challenges an actor faces today is that of their portrayal of a gay character on TV or in film. The reason? The reception one may get from said portrayal could have a lasting impact on someone living their daily life either proudly out or keeping their sexuality a secret in fear of any backlash they may get from friends, family or society as a whole. Shen admits, "Television and films as a visual medium is so powerful. I've always been conscious of that. Just as being an Asian American actor. I know seeing someone that looks like me or is going through similar experiences that I have gone through helps me tremendously in terms of just acknowledging that I exist. The backdrop of television very rarely accurately represents what is actually going on in the real world. People have asked me about playing a gay character. 'Is it weird, since you're straight, saddling up to guys?' and I'm like, 'I'm just more nervous about conveying the truth and doing justice!' I want to convey this as best I can because this is somebody's story – a lot of people's story out there across the country, across the world – depending on who's actually going to be seeing this. I just want them to say 'we're being represented' and hopefully well."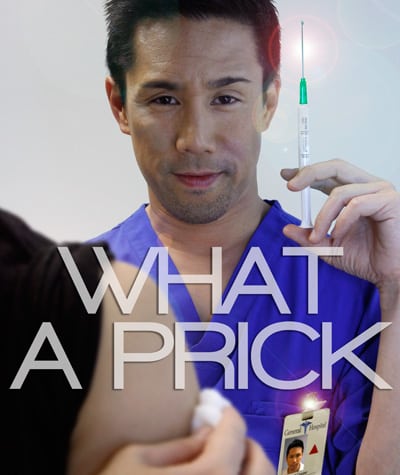 In many instances, when a TV show or a film delves into the story of a gay character, audiences are typically treated to a coming out story where they are introduced to a gay character, given the exposition and then finally a conclusion to the story, but Brad is very different. "I know people were always saying they didn't like Brad just because he was kind of a prick, but then a lot of other people are saying they're tired of seeing just one kind of dimension of the gay guy always being this one dimensional guy being this goody two-shoes. Sometimes people are pricks! There are people that are jerks that you can't stand. Nothing to do with sexuality at all. I go with that being Asian also. All I played for awhile was the Asian goody two-shoes, who either delivers food at the door or was the translator. I did a movie called 'Better Luck Tomorrow' [released in 2002] where these high school kids ended up committing a murder and people were like, 'Oh, this is such a negative portrayal of Asian Americans.' [Film critic] Roger Ebert was actually in the audience and he kind of like stood up for our movie and said, 'That's very offensive because you wouldn't say that to a bunch of white filmmakers… how could you do this to your people?" There are so many facets of being Asian, same with being gay. Felix, Brad and Lucas… they're three very different people, but they're all gay. I love that even though we're all playing gay characters, they are all still very different and I think that's great."
Debuting on the soap in May of last year, Shen is very proud of his role. "They said the character is recurring," he recalls of conversations he had with casting when he learned of the role of Brad. "Recurring could mean two episodes. It could have very well ended at that point. I've been doing this long enough that I always expect the worst, but hope for the best. In the past, whenever I had a recurring role there was an end to him like there was a death planned (set for three episodes) or it was hinged on one character, so when the character was gone… I was gone. And then [there were times] it just didn't work out period." Talking about his short lived role on "NCIS: Los Angeles," Shen says, "For some reason they thought this character would work out. From the first episode, even though it was recurring, I could feel I wasn't coming back. I just felt that I was a redunent character. They already had someone like that – I wasn't bringing anything new. With this one, after doing five episodes, I was saying to my wife, 'I'm kind of in new territory where there's no real end in sight' or as long as he felt like doing interesting things, there wasn't really anybody like him. There's something different – no one else is doing the things he's doing. Here we are nine months later, he's still around and kicking."
On February 11, Shen can be seen in the film "Unidentified," which he co-wrote and co-produced. "This project was the dream that every actor has after having heard about Ben Affleck and Matt Damon, after they wrote 'Good Will Hunting.' All of a sudden people get inspired and say, 'Let's create our own vehicle, so that we have our own say' and this was that for me. I co-wrote the story and it wasn't a big budget, but at the same time it was exciting working with the limitations because it forced us to be creative. We literally at one point set the camera up into space into the stratosphere with a weather ballon and those extras are on the DVD. There's a featurette of it on the DVD and how we tracked it. I'm really proud of it. It basically took all of 2012 doing that. The fact that it's coming out now is a great bookend to it."
For more on "Unidentified," watch the trailer below and pre-order your own copy at Amazon.com.
Shen can be seen daily on "General Hospital," which airs Weekdays on ABC and anytime on ABC On Demand or on Hulu and Hulu Plus.