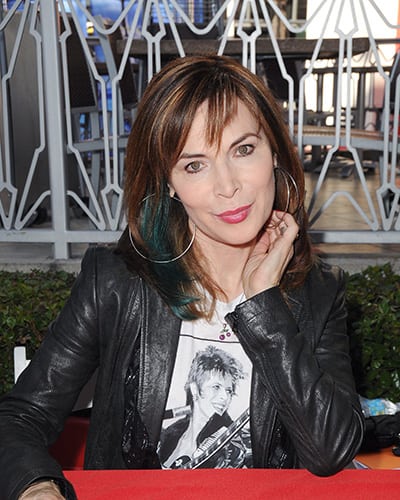 It's time for another edition of Tweet This, Tweet That! Each week we compile some of the most hilarious, thought-provoking, controversial, or interesting tweets from your favorite daytime stars.
Throwback Thursday, or #TBT as its known on Twitter, is a chance for social media users to offer a look at their past through pictures every Thursday. This week, some popular soap stars past and present participated and revealed some amazing throwbacks!
Chris McKenna (ex-Joey Buchanan, "One Life to Live") made news this week when it was announced that he'll be joining the cast of "The Young and the Restless." Looks like his friendship with his new Y&R co-star Amelia Heinle (Victoria Newman) goes way back!
Yes, that's me and Amelia Heinle and others, circa 1992, on our Make-a-Wish foundation softball team. #tbt #YR pic.twitter.com/1VFKi0UPaE

— Chris McKenna (@ChrisLMcKenna) January 23, 2014
Former "OLTL" actor Max Tapper (ex-Theo Price) also flashed back to the 90's!
#TBT the 90's ……Repost from my man @bigdoxx the6th_ninja #RuggedBrood #throwback #maxtapper… http://t.co/mhNYXzuqJ3

— Max Tapper (@Maxtapper) January 24, 2014
Minae Noji Kent King (ex-Kelly Lee, "General Hospital") tweeted this picture from her time on "GH" spin-off "General Hospital: NightShift."
#throwbackthursday On set #GH #NightShift were hrs of fun & luv! This foto gets it perfectly. pic.twitter.com/cmRSCWCtpY

— Minae Noji Kent King (@MinKchicks) January 23, 2014
Former "GH" star Erik Valdez (ex-Trey Mitchell) shared this childhood photo with former NFL player Jim McMahon.
How's this for a #tbt!? With my bro @gabrielrvaldez & former #NFL great, @JimMcMahon! http://t.co/VEemLyVEZ7

— Erik Valdez (@erikvaldez) January 23, 2014
Former "OLTL" actors Amber Skye Noyes (ex-Michelle) and talk-show host Wendy Williams (ex-Phyllis Rose) both threw back all the way to childhood! Who knew Noyes was a blonde?
#TBT denim blouse? Check. #vintage #90s #throwbackthursday #blonde http://t.co/LsDm1NySsr

— Amber Skye Noyes (@Amberskye33) January 23, 2014
My #CharmSchool fashion show when I was 7yrs old. #tbt #wendytbt http://t.co/AJ8B5Dni8Z

— Wendy Williams (@WendyWilliams) January 23, 2014
Lawrence St. Victor (ex-Remy Boudreau, "Guiding Light") remembered a Boudreau family Thanksigiving with his former co-stars.
Boudreau Thanksgiving!!!! 🙂 @karlamosley @KimBrockington1 @TyraColar @ymkopacz @Montel_Williams #tbt #GuidingLight pic.twitter.com/ep3KKqHkPY

— Lawrence St.Victor (@LSaintVictor) January 23, 2014
Lauren Koslow (Kate Roberts, "Days of Our Lives") also shared a happy memory from her time with her show.
#ThrowbackThursday #Days @BetterLiving_TV bookTour #Boston W @KJAlfonso @greg_vaughan @freddiemsmith @camilabanus pic.twitter.com/2ohJTA75oH

— Lauren Koslow (@laurenkoslow) January 23, 2014
We're not sure what Jesse McCartney (ex-Adam Chandler Jr, "All My Children") is flashing back to, but we'll still include it!
#TBT of me trying out my meat injector. That's not a double entendre. It's really a meat injector! pic.twitter.com/3VTMfb0Pvf

— Jesse McCartney (@JesseMcCartney) January 23, 2014
The throwbacks above were all great, but the Soap Opera Network Tweet of the Week, or #SONTOTW as we like to call it, goes to Bonnie Dennison (ex-Daisy Lemay, "GL".) We hope that this is hanging in your house Bonnie!
From when I went to a portrait unveiling for @JohnStamos Best night of ma life! #tbt #unclejesse #fineart pic.twitter.com/dqkvmZBjd1

— Bonnie Dennison (@Bonnie_Dennison) January 23, 2014
Do you have a topic you'd like to see covered in next week's "Tweet This, Tweet That?" Let us know in the comments below and we'll be sure to cover it!