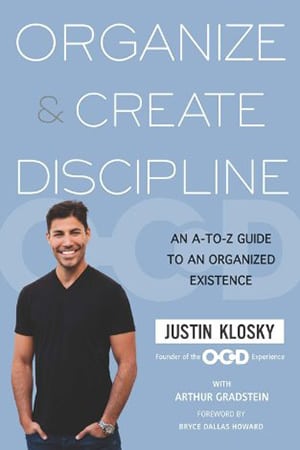 Wonder whatever happened to "Guiding Light's" Justin Klosky (ex-Joey Lupo)? Well the actor is now a professional celebrity organizer and author of the new book, "Organize & Create Discipline: An A-to-Z Guide to an Organized Existence," which was released yesterday.
In the book, the Miami native discusses "what growing up with OCD was like and why my OCD came about." He notes, "'Organize & Create Discipline' is my first published work.  Having ADHD and OCD made focusing my thoughts for a book a very complicated task.  It's tough to perfect the content when you're stuck dwelling on whether the headings should be centered or left justified."
Released and sold by the Penguin Group, Klosky collaborated with friend and TV writer, Arthur Gradstein. "I approached him one day with a small manuscript, organized alphabetically from A-Z, filled with content that I knew would help people simplify their lives and improve their relationship with their space and 'stuff'. However, it was missing the spark that would get people honest and laughing at the things we are all guilty of when it comes to organization, something I'm able to do when I help people in person. Arthur helped me not only stay focused when writing this book, but also helped me transfer my passion and humor to the page in a clear and concise way.  Together, I feel we managed to deliver the most relevant organizational book on the market."
Available in both digital and hardcover formats, "Organize & Create Discipline" retails for $26.00, but can be purchased for a reduced price at Amazon.com or Barnes & Noble. The Kindle edition sells for $10.99, while the Nook Book eBook edition sells for $12.99.
To help promote the release of "OCD," Klosky will appear on the Monday, December 30 edition of ABC's "Good Morning America." He will appear alongside Ryan Seacrest, who will preview ABC's "New Year's Rockin' Eve."
For a taste of what you can expect in the book, watch the clip below:

Klosky appeared on "GL" from 2003-2006.
For more information on OCD, click here.