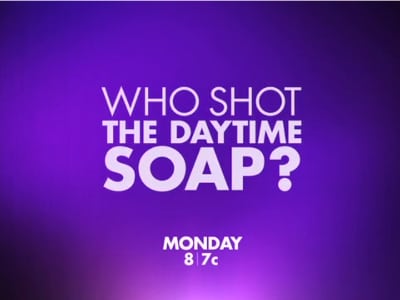 TVGN is proving why it's now the "the new way to watch soaps." With the network already picking up encore airing rights to "The Young and the Restless" this past summer, and "The Bold and the Beautiful" earlier this month, the network plans to provide soap fans with even more "soap" for their viewing pleasure courtesy of the new documentary, "Who Shot the Daytime Soap?" Airing Monday, December 16 at 8:00 PM ET/PT, preceded by airings of "B&B" at 6:30 PM ET/PT and "Y&R" at 7:00 PM ET/PT, the documentary tackles the history of daytime soap operas as told by those who were there during the good times, the bad times and the new times.
"The past five years have seen a collapse of epic proportion within the soap opera industry. What was once a formidable lineup of no less than 14 network soap operas in the 1980's has collapsed to just four – 'General Hospital' on ABC, 'Days of our Lives' on NBC and 'The Young and the Restless' and 'The Bold and the Beautiful' on CBS and now TVGN," is the opening statement from the documentary that features interviews with several daytime legends, veteran stars, and a host of talents from behind the scenes that have helped make the soap opera genre the longest running form of television entertainment.
From the OJ Simpson murder trial, women returning to the work force, to reality TV, and more recently the advent of DVR's and TV on the go via mobile devices, interviewees try to pin down what they think led to the near collapse of the daytime drama format. Also included is in-depth commentary on the cancellations of "Another World," "Guiding Light," "As The World Turns," "All My Children" and "One Life to Live," and highlights featuring the genres pioneers – Irna Phillips, Agnes Nixon and William J. Bell.

Some of the names featured in the documentary include: Grant Aleksander, Bradford Anderson, Matthew Ashford, Maria Arena Bell (former head writer/executive producer, "Y&R"), Crystal Chappell, Julie Hanan Carruthers (former EP of "Port Charles" and "AMC"), Linda Dano, William deVry, Frank Dicopoulos, Max Ehrich, Judi Evans, Mary Beth Evans, Rick Hearst, Sean Kanan, Wally Kurth, Michael Lowry, Susan Lucci, Robin Mattson, Lilly Melgar, Alicia Minshew, Michael Muhney, Robert Newman, Wendy Riche, Tristan Rogers, Charles Shaughnessy, Kathryn Leigh Scott ("Dark Shadows"), Kristoff St. John, Josh Taylor, Jacklyn Zeman, and Colleen Zenk.
In case you aren't able to watch live or forget to set your DVR, the full TVGN airing schedule is as follows:
Monday, 12/16
2:00 PM – 3:00 PM (early premiere); 8:00PM – 9:00PM
Tuesday, 12/17
10:30 AM – 11:30 AM; 5:00 PM – 6:00 PM
Wednesdays, 12/18
9:00 AM – 10:00 AM
Thursday, 12/19
10:30 AM – 11:30 AM