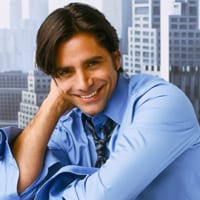 UPDATE: Tweets asking Stamos if he would ever return to "GH" apparently began even earlier today, which looks to be where the previous story began. When asked about a return to "GH," Stamos said, "Never! I tried,they wanted me 2 play J.G. on drums with R.S. Legacy too important to me. In response, Carlivati said, "I'm sure I will be shouted down by 1.3M people, but this is a total mischaracterization of what occurred."
J.G. in the tweet refers to "Jessie's Girl," the song Rick Springfield (the R.S. in the tweet) sang at the Nurses Ball in celebration of "GH's" 50th anniversary. Springfield returned as his character Noah Drake for the episode.
PREVIOUS: Earlier today a fan tweeted, "@JohnStamos @carlivatiron @valentinifrank #BringBlackieBack #GH," which attracted the attention of the intended parties, but the responses themselves were the least expected of all.
Stamos, who portrayed Blackie Parrish on ABC's "General Hospital" in the 1980's replied to the tweet and said, "Sociopathic! You don't remember [the] phone call in @valentinifrank office?" As confusing as the tweet appeared, it became less confusing when "GH" head writer Ron Carlivati responded to Stamos' tweet with, "Yes, I remember it well. But for some reason you seem determined to rewrite the narrative."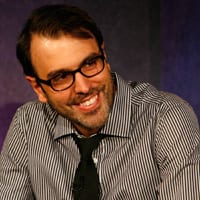 If you'll recall, earlier this year there was talk that Stamos might be returning to the soap opera after a 30 year absence just in time to help celebrate "GH's" 50th anniversary. In fact, Stamos appeared on the now defunct "The Jeff Probst Show" back in February and said to Probst, "Why don't we pull Blackie out of jail [where he's been for 30 years] and he has to reacclimate to life?" Stamos added, "He's never been with a girl! I would like to go on ['GH'] and do some acting."
In addition to Stamos, the soap was looking for other 80's stars such as Richard Dean Anderson (Jeff Webber) and Demi Moore (Jackie Templeton) to return in some form for the 50th anniversary. Neither actor returned for the show's 50th anniversary.
There's been no further discussions between Stamos or Carlivati on the topic since it first came to light.