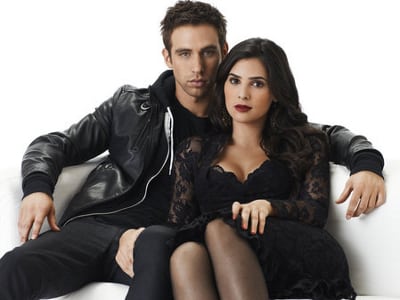 In the coming weeks a storyline involving the characters of Nick Fallon and Gabi Hernandez gets physically violent and rumors are now swirling about the possibility that as a result of the storyline, Nick's portrayer, Blake Berris, may be leaving the "Days of our Lives" canvas.
When asked by Soap Opera Network during today's "A Day of DAYS" fan event at Universal CityWalk Hollywood about his status with the show Berris was unable to comment, but on the storyline itself he did say that Nick is just reminding Gabi (Camila Banus) of the passion between them.
Should it come to fruition that Berris is leaving it would be another blow to the soap as the "DAYS" younger set in their current iteration helps bring in plenty of younger and older eyeballs to the screen in several storylines that have captivated audiences. Chandler Massey, who portrays Will Horton, is departing the soap in January and will be replaced by a new actor (Guy Wilson). Meanwhile, Casey Deidrick exited the series as his character, Chad DiMera, moved to Boston.
Berris returned to the soap in August 2012 after his character spent time in prison for stalking Melanie. It was revealed earlier this year that the character was sexually assaulted while in prison by his cellmate, Jensen (Derek Magyar), which brought a lot of drama between Nick as he watched Will and Sonny (Freddie Smith) parade around Salem as a happy gay couple.