Daytime newcomer Casey Moss has joined the cast of NBC's "Days of our Lives," per a tweet by Salem newbie Jen Lilley. In her tweet, the actress said, "Oh snap! My hott co-star joined Twitter! Be sure to follow @1CaseyMoss and watch his first episode of #Days Friday!" The tweet was accompanied by an image of the two in the "DAYS" hair and makeup room hugging. Moss thanked Lilley with a tweet back that said, "Thanks Jen! I appreciate it!"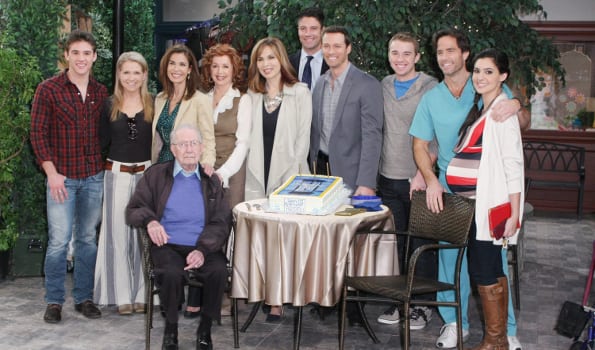 In March, word began swirling about who the guy standing next to Melissa Reeves (Jennifer Horton) in the above picture (far left hand side) was after a report in The News Tribune highlighted the 101st birthday of one of "DAYS'" oldest fans. In the Tribune story, it was revealed that the image was taken back in January, which means Moss has been secretly filming at the Burbank Studio of the popular daily series for the past four months!
Moss first airs on the Friday, May 3 episode and will portray Reeves' onscreen son JJ Deveraux (aka Jack Deveraux, Jr.), whose father, Jack Deveraux, Sr. (Matthew Ashford), died while saving his daughter Abigail Deveraux (Kate Mansi) from an elevator collapse.