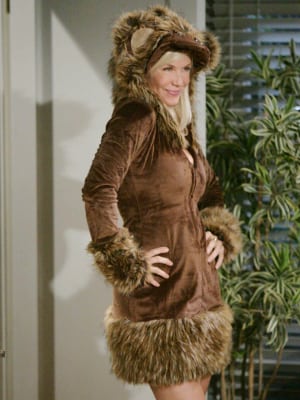 Goblins and witches and ghosts, oh my! And no, we're not talking about the millions of children who'll be cavorting around as such on All Hallow's Eve next week. We're talking about the stars of "The Bold and the Beautiful," "The Young and the Restless," "The Price Is Right," "The Talk" and "Let's Make a Deal," as all five shows are featuring Halloween themed episodes on Thursday, October 31, complete with fun and creepy costumes!
"Y&R's" spooktacular episode sees Faith visiting her grandfather, Victor (Eric Braeden), while she tricks or treats her dad, Nick (Joshua Morrow). But the fun really starts when Avery (Jessica Collins) confronts Nikki (Melody Thomas Scott) about a life-changing secret may have planned on taking to the grave! Meanwhile, Chelsea (Melissa Claire Egan) and Adam (Michael Muhney) reunite as they await information regarding their son's health, and Billy (Billy Miller) mourns for Delia during his first Halloween without his newly deceased daughter.
Over at "B&B," lovers Bill (Don Diamont) and Brooke (Katherine Kelly Lang) take a step back from their mountain climbing excursion in Aspen for some sinful All Hallow's Eve lovin' — complete with a "bare" costume sure to set Bill growling!
Fans will love "The Price Is Fright's" Count Drew-cula (Drew Carey), who'll be hosting Halloween themed games like Bat Race and Yucky Seven. What's more, guest ghoul Melissa Ordway (Abby Newman, "Y&R") and zombie model Rachel Reynolds will be participating in a live Twitter chat that same day from 11:00 AM to 12:00 noon, ET. Use the hashtag #PriceIsRight to ask your questions!
Meanwhile, "Let's Make a Deal" will feature a trip to Paris and Mexico as part of its Halloween themed show, and "The Talk" will be featuring a Peter Pan themed episode with costume-clad guests Michael Weatherly ("NCIS"), and Billy Gardell and Reno Wilson ("Mike & Molly). Chef Anne Burrell also joins to share a Peter Pan themed menu perfect for parties!
Catch all of this and more on CBS on Thursday, October 31…. if you dare!