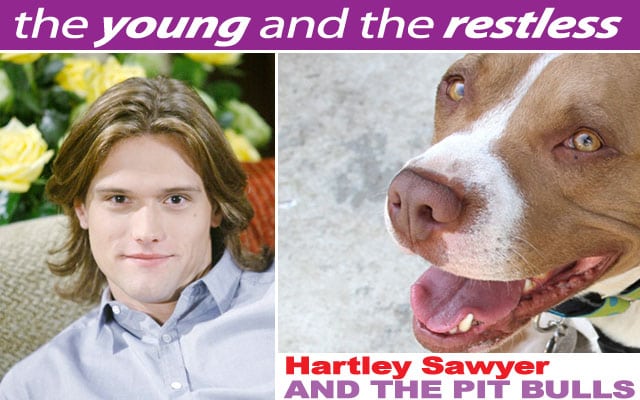 "I am extremely passionate about the pit bull breed, and involved in events and action to raise awareness – awareness that these wonderful animals can be loving pets and furry family members. In an effort to rehab the image of the pit bull breed, I volunteer with Angel City Pit Bulls – www.angelcitypits.org – and we have a big fundraising event this weekend," says "The Young and the Restless'" Hartley Sawyer (Kyle Abbott), who will be attending the "Strut Your Mutt" event on Sunday, September 15 at 9:00 AM in Woodley Park (Address: Woodley Park, located at 6350 Woodley Ave, Van Nuys, CA 91436).
"This event is not focused just on pit bulls, but is a multi-city nationwide event involving dozens of rescue groups all in an effort to raise funds for dogs of every breed – so we can get our animals spayed, neutered, into good homes, and drastically reduce the horrifically high kill rates in our major cities' shelters," Hartley makes clear. He adds, "PLEASE help me help these animals. It would mean so much to me – and even more to these canines – if you took five minutes, visited the link below, and registered and threw down a few bucks of your dirty, dirty 'Y&R' blood money for these pooches."
Online: STRUT YOUR MUTT – Angel City Pits Pack
[quote]Your time and a few of your bucks means the world to me. I love my dogs more than anything. Help us reach our fundraising goal of $20k – and please take a few moments to check out the Angel City Pits website listed above. In the blog section you can read about my experience in adopting Maggie, my red-nosed pit bull — Hartley's Blog About Adopting Maggie
Thanks for reading and have a great weekend my friends.
-Hartley[/quote]