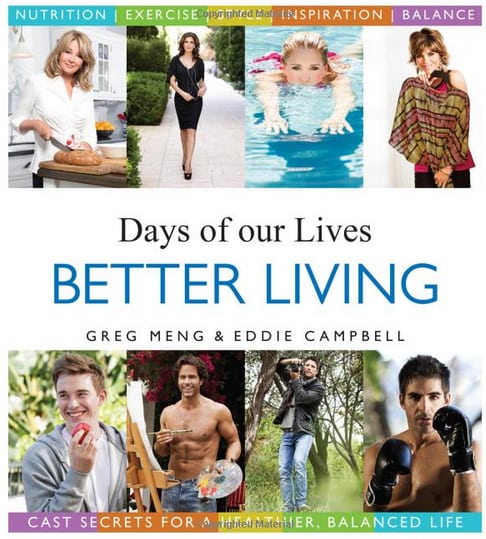 It seems everyone is hopping aboard the healthy living train these days, and the cast of "Days of our Lives" isn't excluded: Several of the sudser's stars have opened up and shared their secrets on how to live a healthier and more balanced life for the show's newest book, 'Days of our Lives' Better Living: Cast Secrets for a Healthier Balanced Life, which hits newsstands on Tuesday, September 24! And with just 19 more days to go until the big day, several of the stars featured are gearing up for a national tour to promote the book that they're hoping will change your lives forever!
The publication — written by "DAYS'" co-executive producer Greg Meng and Eddie Campbell and available for pre-order now — covers everything from nutrition to exercise to style to inspiration to balance, and each castmember contributes in his or her own way. "It's good for your mind to have something else to do in addition to whatever you have as your main job or career," offers Galen Gering (Rafe Hernandez) on balance. Adds Susan Seaforth Hayes (Julie Williams) on nutrition: "I spend a lot of time thinking about meals (like yogurt for breakfast) and preparing them. I'm proud of the fact that we're still pretty active. I think a lot of it has to do with good nutrition."
But that's not even the tip of the iceberg when it comes to the book, which features over 300 pages of behind-the-scenes, original and exclusive never-before-seen images with cast members like James Scott (E.J. DiMera), Shawn Christian (Daniel Jonas), Alison Sweeney (Sami Brady), Sarah Brown (ex-Madison James) and Deidre Hall (Marlena Evans). To get a sneak peek, check out the book tour's official website. And check out the schedule below to see if your town has been added to the national book signing tour yet!
New York City–9/23/2013 Book signing at Barnes & Noble on 5th Ave at 12pm
New Jersey–9/23/2013 Book signing at Books and Greetings (Northvale) at 6 pm
Raleigh, NC–9/23/2013 Book signing at The Regulator (Durham) at 7 pm
St. Louis–9/23/2013 Book signing at Barnes & Noble Des Peres at 6pm
Boston–9/25/2013 Book signing at Barnes & Noble Framingham at 7pm
Greenville, SC–9/25/2013 Book signing at Books a Million at 7pm
Minneapolis–9/25/2013 Book signing at Barnes & Noble at Mall of America at 6pm
Nashville–9/27/2013 Book signing at Books a Million at 12pm
Birmingham–9/27/2013 Book signing at Books a Million at 6pm
Chicago–9/27/2013 Book signing at Barnes & Noble at Westfield Old Orchard (Skokie) at 7pm
Chicago–9/28/2013 Book signing at Anderson's Bookshop at Naperville at 2pm