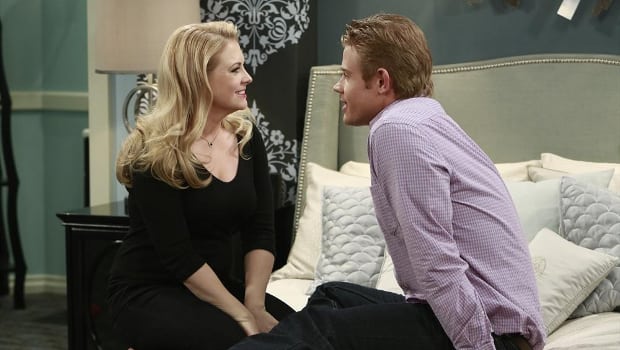 If you tuned your TV to ABC Family on Wednesday, July 3 expecting to see Trevor Donovan in his third and final appearance on "Melissa & Joey" as Austin, a childhood friend of Mel's (Melissa Joan Hart), who moves back to Toledo and quickly convinces her to take their old friendship to the next level, you were probably one unhappy camper. Turns out the network pushed the episode back a week and his final appearance on the comedy series will instead air on Wednesday, July 10, a network spokesperson informs Soap Opera Network.
From ABC Family: Entitled "The Unkindest Cut," Mel is taken aback when she finds out that Austin may not share her vision of their future and is resolute in his belief he never wants children. Trying to convince Mel not to give up on her dream of a family, Joe (Joey Lawrence) introduces her to the neighbor's baby (Melissa Joan Hart's real life son Tucker). Meanwhile, Joe's new girlfriend is only interested in a physical connection, which leaves him confused and wanting more in the relationship. And, Lennox (Taylor Spreitler), can't motivate herself to write her college entrance paper, so she hires Ryder (Nick Robinson) to be her full time babysitter until she does.
"Melissa & Joey" airs Wednesdays at 8:00 PM ET/PT on ABC Family.