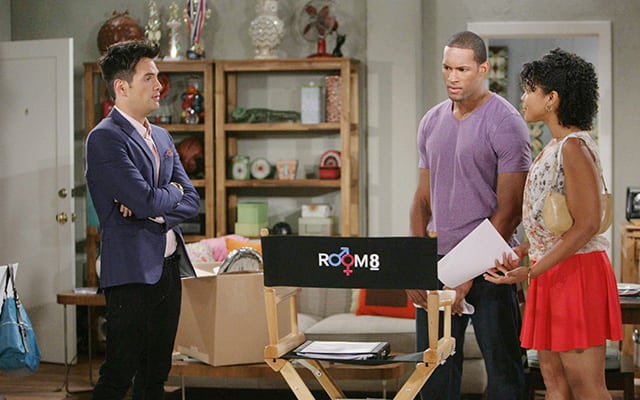 In an exclusive interview with TV Guide's Michael Logan, "The Bold and the Beautiful's" Lawrence Saint-Victor (Carter Walton) revealed that the CBS Daytime drama series will be turning its show within a show into a show. "Room 8," the fictional web series that finds Carter and Maya Avant (Karla Mosley) appearing as Lance and Scarlett, will be turning into a real web series courtesy of CBS.com.
"This is Rafael's [Andy Zuno] original vision for 'Room 8' — the one that would have been filmed if Caroline Spencer [Linsey Godfrey] hadn't gotten involved and started changing it up to make Rick [Jacob Young] jealous," says Saint-Victor, who is also writing and producing the online version of "Room 8" with Mosley. "When we were hired at 'B&B' [exec producer] Brad Bell asked us a lot of questions about 'Wed-Locked' [the online series the duo created and starred in after 'Guiding Light' ended] — how we created it, how we shot it — and that in a way became the inspiration for 'Room 8,'" Saint-Victor says. Adds Mosley: "Brad gave us a lot of creative freedom with this. Like the version of 'Room 8' you've seen on 'B&B,' this one starts with Lance and Scarlett meeting and moving in together, and Brad had a great idea for the final episode. So, basically, we were given the bookends and the rest was up to us."
"Room 8" premieres online via Room8TheSeries.com on Thursday, August 8. Eight episodes of the series are expected to be posted.