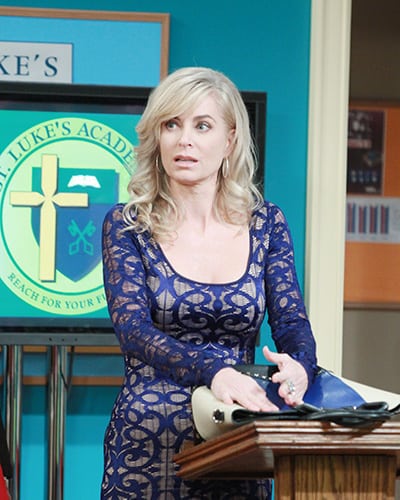 According to Soap Opera Digest, Eileen Davidson will be departing NBC's "Days of our Lives"  just over a year since returning to the set of the daytime drama series to reprise her iconic role of Kristen DiMera.
"The Kristen story wrap-up is just fantastic; she was just glorious," says Ken Corday, executive producer. "The official word there is that Eileen Davidson is leaving the show to take some time out with her family. Will she come back? We'll see. But she's not going to another show. I am thankful for all she's brought to us. It was the first shot in the arm we needed. A big shot in the arm," he added referencing to the boatloads of storylines the character was able to infuse into the canvas over the past several months.
Per the magazine's website, which states the full report will be published in the newest issue on sale Friday, Davidson taped her final scenes on the soap on Tuesday, July 16. With the series filming four months ahead of airdate, the actress is expected to remain on screen through at least mid-to-late November.
Davidson, who originated the role of Ashley Abbott on "The Young and the Restless" in 1982 and left in 1988, joined "DAYS" in 1993 and portrayed five characters (sometimes simultaneously) over the course of her original five year Emmy nominated run. In addition to Kristen DiMera, Davidson famously portrayed Susan Banks, Sister Mary Moira Banks, Thomas Banks, and Penelope Kent. She returned to "Y&R" in 1999 only to find herself let go from the show in 2007 with her character moving to Los Angeles, which is where we found her for a brief time on CBS' "The Bold and the Beautiful." Davidson returned to "Y&R" in 2008 until her departure in 2012, before returning to the "DAYS" canvas in October.
In response to word of her exit getting out, the actress said on Twitter, "You're all so awesome! I didn't get fired. My family is fine. Thanks for your love and support! xoxoxo"