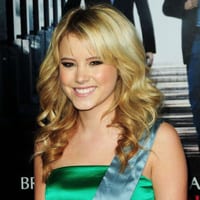 Taylor Spreitler may be known to many fans as Lennox on ABC Family's "Melissa & Joey," but soap fans know her best as "Days of our Lives'" Mia McCormick, a role which she played from 2009 to 2010. But whether you love her for her comedy gig or her former soap gig, she's open to any and all questions you can fire her way!
To help promote ABC Family's Comedy Wednesdays, the star will be participating in a live Twitter chat during an all new episode of "Melissa & Joey" airing Wednesday, July 24, at 8PM ET/5PM PT. In the episode, titled "Something Happened," Mel (Melissa Joan Hart) desperately wants to be the cool aunt after she discovers that Lennox has taken her relationship with Zander (guest star Sterling Knight) to the next level. Joe (Joey Lawrence), however, just wants to kill the boy for his deeds!
To ask Spreitler a question, just include the hashtag #MelissaandJoey in your tweet.