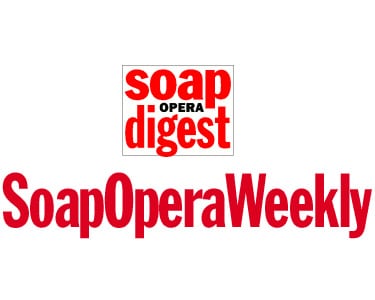 (SoapOperaNetwork.com) — Although the likelihood was expected thanks to the loss of long-time soaps "All My Children" and "One Life to Live" in 2011 and 2012, which were preceded by the departures of "Guiding Light" and "As The World Turns" in 2009 and 2010, news broke on Thursday, March 22 that after 22 years in publication Soap Opera Weekly would end its successful run as one of the premier soap opera magazines. The final decision to end the mag was just one of many blows the soap opera industry has felt in as many years. Soap Opera Network takes a by the numbers look at Weekly and how its readership levels helped lead to its ultimate demise.
On April 14, 2011 news of "All My Children" and "One Life to Live's" cancellations created headlines in nearly every trade magazine, newspaper and informational entertainment website you could think of. What the world didn't know at the time was that same day (morning in fact) American Media, Inc. had signed a licensing deal with Source Interlink, owner of both Weekly and sister mag Soap Opera Digest, in which American Media would control the editorial, advertising, marketing and distribution aspects of both magazines. As part of that deal a number of staffers were let go from both Digest and Weekly, while those who remained were either re-assigned or part of the recent layoffs now effecting the demise of Weekly itself.
According to the latest Audit Bureau of Circulations (ABC) data Soap Opera Network has received, Soap Opera Weekly magazine had an average total circulation of nearly 108,000 between subscriptions and single copy sales in the second half of 2011. Single copy sales exceeded subscriptions by just over 5,000 issues. The magazine lost upwards of 40,000 subscribers compared to the second half of 2010, when its total circulation was nearly 146,000 between subscriptions and single copy sales. In November of 2011, in our report announcing the launch of Reality Weekly, we noted that Soap Opera Weekly had recently ceased providing subscriptions:
Dated November 14, 2011:

Although I do not personally subscribe to either Digest or Weekly, it recently came to my attention that Soap Opera Weekly no longer provides subscriptions for soap fans wishing to receive their Weekly at home as it and numerous other magazines have done since their inceptions. This was later confirmed as the magazine no longer provides an online subscription via the Zinio magazine subscription and tablet application service. Digest and Soaps in Depth (both ABC and CBS editions) continue to provide subscriptions, however.
With the magazine no longer providing subscription based readership, sales figures fell to just over 50,000 single copy sales based on the data average of the 15 issues sold during the first half of 2012, according to the ABC. This showed axed subscribers did not opt into buying the magazine at their local supermarket or grocer. By comparison, in the first half of 2001, when there were 10 soaps still on the air ("All My Children," "As The World Turns," "The Bold and the Beautiful," "Days of our Lives," "General Hospital," "Guiding Light", "One Life to Live," "Passions," "Port Charles" and "The Young and the Restless"), Weekly's total circulation was 372,000 on average between subscriptions (134,000) and single copy sales (238,000).
Soap Opera Weekly, which launched with its first issue dated November 21, 1989, with maven Mimi Torchin as its founding Editor in Chief, will present a final look into the world of soaps with its last issue dated April 10, 2012, according to an American Media spokesperson. Stephanie Sloane, in her role as the Editor in Chief of both Weekly and Digest, will close the books on the magazine.