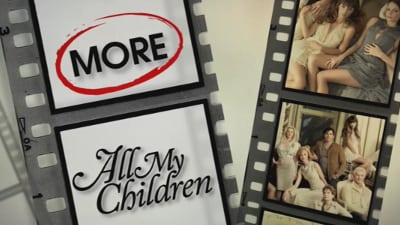 As a result of OWN picking up the cable rights to the first 40 episodes of "All My Children" and "One Life to Live," many wanted to know what that meant for "MORE," the series that gives fans just that at the end of each week, or on Mondays now that it, along with "AMC" and "OLTL" will release new episodes Netflix style beginning Monday, July 1. Soap Opera Network has the answer.
According to a representative for Prospect Park, "MORE" will remain exclusive to Hulu and iTunes for the time being. "That's all we have right now. Just the [AMC/OLTL] run," said the rep in response to whether OWN would be airing "MORE" as well.
OWN announced that beginning Monday, July 15, "AMC" will begin airing in its former ABC timeslot at 1:00 PM ET/PT*, Mondays through Thursdays, while "OLTL" will air at 3:00 PM ET/PT, Mondays through Thursdays. Both soaps will strip in their original half-hour format as they've done since launching back in April.
"MORE" is released as a combined "AMC" and "OLTL" series on iTunes, but on Hulu is broken up into sections for just "AMC" or just "OLTL."
*All My Children aired at 12:00 PM in the pacific timezone.