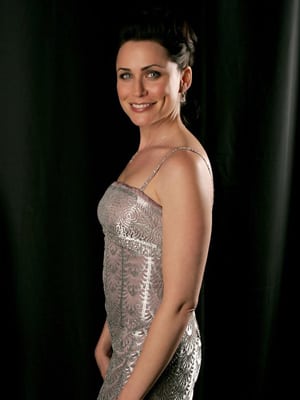 According to TV Guide's Michael Logan, Rena Sofer (ex-Lois Cerullo, "General Hospital") is joining the cast of CBS' "The Bold and the Beautiful" as Quinn Fuller, the mother of Darin Brooks' Wyatt Fuller. "Not a lot of deets yet, except that Mama is as mysterious as Sonny Boy and both have secrets that will rock the soap," the publication reported.
In addition to her Emmy award winning role on "GH," Sofer has appeared in episodes of CBS' "NCIS" and "Two and a Half Men." Most recently, the actress portrayed Queen Eva in an episode of ABC's "Once Upon a Time" and appeared as Sabrina Meyer on The CW's "Beauty and the Beast."
Sofer hits the CBS Television City studio of "B&B" beginning Wednesday, May 22. Her first airdate is set for Friday, July 12.
UPDATE 7:05 PM ET: "I am so excited to be joining Bold and the Beautiful!! I have always loved daytime and I am so excited to be back!!!" said Sofer in a posting on Twitter just a short time ago. Her joining reunites her with former "GH" scribe Michele Val Jean, who welcomed the actress to the canvas on the social network site. "Congratulations & welcome! Looking forward to putting words in your mouth again. (Actually, I already did) xoxo," Val Jean said.