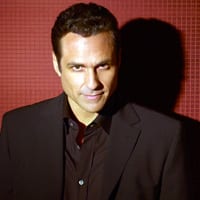 (SoapOperaNetwork.com) — A look at what's happening on "General Hospital" during the week of October 10, 2011.
THIS WEEK ON: GENERAL HOSPITAL
On Tuesday, October 11, Lisa's "ghost" looms heavy over Port Charles. Patrick puts together an interesting birthday celebration for his wife. The dark cloud following Maxie threatens Patrick and Robin's celebration but on Thursday, October 13 her bad luck appears to be the least of their problems. Lisa eliminates an obstacle. Alexis and Kristina butt heads. Kristina receives shocking news. Dante listens in as Sonny has a revealing conversation with Kate. Kate and Sonny end up very close as they work together to get Michael out of a jam. Sonny surprises Kate on Friday, October 14.
The Inside Story: My Addiction
Lucky sets Luke straight about where he stands with the family. Does Luke have a secret weapon to break through the wall his family has put up? Luke purposely interrupts Tracy and Anthony on Wednesday, October 12. Lucky and Ethan discuss Luke and addiction. Elizabeth arranges a family get together for herself, Lucky and the children. Lucky pulls no punches as he calls Elizabeth out on her true intentions  – and dashes any hopes she has of them ever being a family again. Lucky makes a decision. Matt asks Elizabeth if she would be his date to the boat party (in his honor) after being turned down by Maxie. Lucky confides in Ethan. Lulu continues to drown her sorrows in alcohol.
A Closer Look: Trick or Treat
Jason and Sam's fun in paradise is threatened by a foe – and a friend of sorts on Monday, October 10. Franco's psychosis is evident as he continues his elaborate game. Desperate to reach Jason herself, Carly does her best to persuade Shawn to take her and Josslyn with him to Hawaii. Someone lurks outside of Jason and Sam's shack as they make love. Carly and Shawn arrive in Hawaii. Jason finds a curious item in the shack. Franco delights in his shenanigans.
GH ALERTS: WEEK OF OCTOBER 17, 2011

Steve's announcement upsets Robin.
Matt and Elizabeth inch closer.
Jason and Sam face off with Carly and Shawn.
Sonny is done tolerating Kate's attitude.
Lives are at stake as Lisa takes Port Charles by storm, again.