When Jeanne Cooper first stepped into "The Young and the Restless'" Genoa City as Katherine Chancellor back in 1973, soap opera history was made. Written by show creator William J. Bell specifically to convey controversial storylines that would boost weak ratings, Katherine was everything the wealthy wife of Phillip Chancellor II shouldn't be: a drunk, a heavy smoker and a bit of a slut who had illicit affairs with stable boys. Despite the character's many problems, fans fell in love with Katherine — as well as the actress who so effortlessly brought her to life.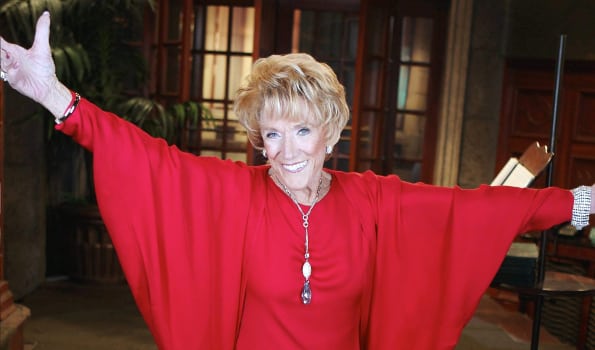 Born in Taft in Kern Country, California, on October 25, 1928, Cooper made her acting debut as Myra in the 1953 Western film, "The Redhead from Wyoming." That led to starring roles in films such as "The Man from the Alamo," "Rock All Night," "House of Women," "13 West Street," "The Intruder," "Black Zoo," "The Boston Strangler," and "Kansas City Bombers," as well as many others alongside such stars as Maureen O'Hara, Raquel Welch, Glenn Ford, Tony Curtis and Henry Fonda.
But Cooper didn't just make her mark on the silver screen: She also appeared in a slew of television shows before joining the cast of "Y&R." After roles in shows such as "Highway Patrol," "Tales of Wells Fargo," "Jefferson Drum," and "Perry Mason," she earned her first Primetime Emmy nomination in 1962 for her work in "Ben Casey" and another again in 1987 for her work in "L.A. Law." She also appeared in "Hawaii Five-O," "Ironside," "Touched by an Angel," and many more.
Despite a very active career in the entertainment industry, her time in Genoa City gives the rest of her resume a run for its money! In the nearly 40 years Cooper portrayed Katherine, she played a bevy of controversial storylines ranging from several bouts with alcoholism, to the death of four husbands, to a real-life facelift shown on the show in 1984, to a long-lasting rivalry with Jess Walton's character, Jill Foster Abbott (which both actresses have said was only an onscreen rivalry and nothing more). Her dedication to telling Katherine's emotional stories in an honest, moving way earned her 10 Daytime Entertainment Emmy nominations (nine for Outstanding Lead Actress, which she won once in 2008, and one for Outstanding Supporting Actress). In addition, Cooper received the Lifetime Achievement Award in 2004 as well as a star on the Hollywood Walk of Fame, which is located at 6081 Hollywood Boulevard, in 1993.
"Her grace and commitment to the work was an inspiration to us all," tweeted "The Bold and the Beautiful's" Heather Tom (Katie Logan) shortly after the news of Cooper's death. "I will never forget her advice, support and encouragement."
"It feels like an end of an era," wrote Eric Braeden (Victor Newman, "Y&R"). "Everyone here is just deeply saddened."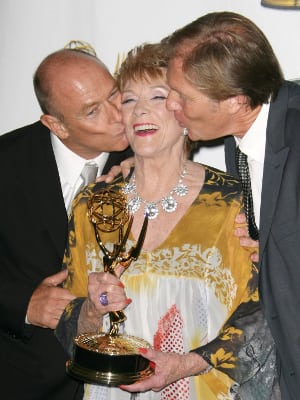 Braeden also tweeted that Cooper had a very loving family around her, which is true, because though the legendary lady was extremely dedicated to her career, nothing made her light up more than talking about her children, Corbin Bernsen (ex-Father Todd Williams, "Y&R:" ex-John Durant, "General Hospital"), Collin Bernsen (ex-Sam, "Y&R") and Caren Bernsen, born in 1954, 1958 and 1960, respectively. And Corbin himself can be credited for bringing the daytime community updates regarding his mother's recent health issues and death earlier today.
"I will certainly dedicate what remains of my life to continue her purpose of honesty, equality, humility, empathy and love," he wrote to fans. ""So many of you have said your prayers for her and right now, today, I can say the best way to honor her is to inhabit your lives with those things she stood for."
To learn more about Cooper's life and career, you can pick up a copy of the memoir she published just last year: "Not Young, Still Restless."