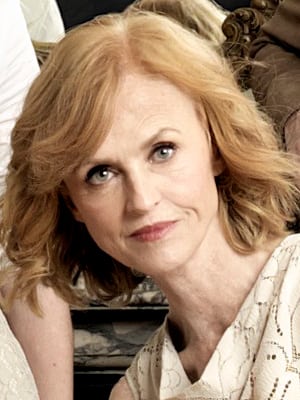 On Thursday, May 16, Prospect Park's The OnLine Network announced its decision to reduce the episode order of both "All My Children" and "One Life to Live" from 168 original episodes (excluding Fridays MORE shows) each per  year to just 110. "AMC" star Jill Larson (Opal Cortlandt) recently spoke out on the decision, which has fans of both soaps currently divided, on her Facebook page:
Personally I think this is a good decision for a couple of reasons.

I think licensing demands required Prospect Park to mount and premier this new network with way too little time to write long term story, to build the infrastructure it takes to produce these shows. When we first arrived, the building was almost bare, PA's were running around buying hangers for the costume dept, toilet paper for the johns, we had NOTHING, they had to buy pens, chairs to sit on, everything.

Everyone has done a Hurculean job, truly unbelievable, the shows look wonderful, I am so very proud to be able to be a part of this daring undertaking. Our producers and writers work until 4:00AM nearly every night, I wondered how long this could continue.

And though this is not the reason for the decision to scale back on the number of episodes posted per week, I think it will provide some real pay-off in the quality of the shows we produce, because great shows, the ones you love to watch, whether All My Children, One Life or MadMen, Downton Abbey, Walking Dead, require time to be created and written with long term thought and care. Taking a break from production will provide the creative team a chance to catch their breath and really bring our shows to a new level of what I hope will be greatness, not just as "daytime", but as outstanding new programming.

But none of this addresses your disappointment at losing 2 episodes a week. We are all disappointed, of course, but let's try to be patient, as we would with a child learning to walk. Everyone, every single person, from Jeff and Rich to our caterers and interns is giving their all to make this a success. We must keep up our excitement, keep spreading the word, we have some really fantastic shows in the making right now, some exciting characters coming back on the canvas, there is much to look forward to.

In closing I'll say that I LOVE chocolate! But I'm hypoglycemic and really shouldn't eat sugar. So I am very selective, I don't binge on the cheap stuff, I buy the most expensive, beautiful chocolate I can get, and savor it a little at a time, and Man, do I get pleasure from it! Let's look at our shows as the best chocolate there is and pace ourselves, it could be an even better ride!

We all love all of you, so let's just keep on keeping on and have faith that together we have a long happy journey ahead!
The change in the amount of episodes aired each week takes effect tomorrow, May 20. "AMC" will now air Mondays and Wednesdays with original episodes along with the MORE Friday episode continuing as scheduled. "OLTL" will air Tuesdays and Thursdays with their Friday MORE show continuing on as planned.