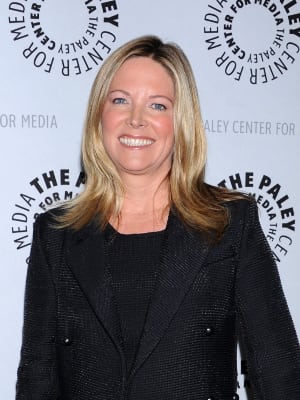 In an interview published in the newest issue of Soap Opera Digest, Maria Arena Bell, the former executive producer and head writer of "The Young and the Restless," shares that the soap submitted episodes #9,999 and #10,000 as part of their Emmy reel in the category of Outstanding Drama Series for the "40th Annual Daytime Entertainment Emmy Awards."
"We felt those episodes, being sequential, were the peak of huge story," she says. The episodes covered the mock funeral of Victor Newman (Eric Braeden) and the nonmarriage of Sharon Newman (Sharon Case) and Tucker McCall (Stephen Nichols). The soap submitted episode #9,999 in the category of Outstanding Drama Series Writing Team. In addition to the "Y&R" Emmy nominations, Digest asked Bell what she thought of the "All My Children" and "One Life to Live" reboots.
"I think it's wonderful. We're closely watching with our friends at Prospect Park. I think the web is an amazing platform for this kind of storytelling. I hope those shows are very successful so that there will be an outcry for more and I'd like to be one of the people providing them." When asked about her possible return to daytime soaps, Bell said, "You never know! I love the genre and I also love the idea of doing a non-network soap and the issues that you could explore that you really can't as much on a network." She added, "Things have gotten really politically correct and certain things are taboo and that's not how soaps started. Soaps were groundbreaking on issues and much more exciting, so I think you can really do something online that could push the envelope a little more. I think you could really have some fun by thinking outside of the box, doing some new efforts in continuing drama. So, that's what I'm really hopeful about. As you start a new production company or a new thing, you've got to have a lot of irons in the fire and just hope something connects. But I'm really excited. It's a great time."
To hear more from Bell and her thoughts on life after "Y&R," whether she'd ever go back, and much more, pick up the new issue of Soap Opera Digest on sale now. "The 40th Annual Daytime Entertainment Emmy Awards" airs Sunday, June 16 on HLN LIVE from the Beverly Hilton Hotel in Los Angeles, CA.