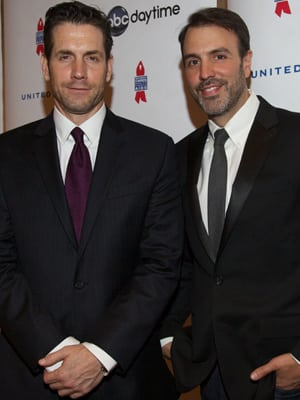 With no original episode of "General Hospital" airing on Monday, May 27 (a re-run of the 50th anniversary episode will air instead), the soaps executive producer and head writer, Frank Valentini and Ron Carlivati, respectively, are teasing multiple surprises in store next week on the soap beginning with the Tuesday, May 28 episode.
"Multiple surprises on Tuesday! Will all your questions be answered? #GH50 #moresurprises," tweeted Valentini to his followers on Friday. Carlivati added, "What secrets lie inside the Quartermaine Crypt? Find out Tuesday on @GeneralHospital! #GH." In addition to the Q tease, on Saturday, May 25, Carlivati tweeted a picture of Roger Howarth's yet-to-be named character on "GH." In his tweet he said, "Who is he? Find out this coming week on @GeneralHospital! And then the story really begins! #GH." Not necessarily related, Carlivati also tweeted, "What is Lulu afraid to remember? Find out this week on #GH! Will the truth bring her back to Dante? Or drive them even further apart?"
What are you expecting from this coming weeks worth of shows? Do you think the show will live up to all the hype? You'll have to tune in to find out, of course!