Big Changes To Come For 'Dancing With the Stars'!
Disney/ABC Television Group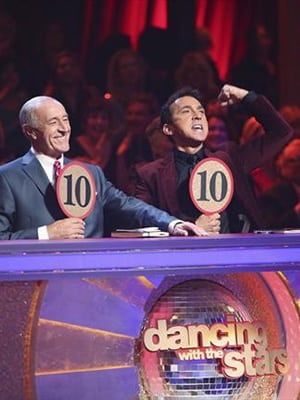 When ABC unveiled its new fall lineup this week, one thing fans couldn't help but notice was a drastic cut to "Dancing With the Stars," which will only be airing one night a week — on Mondays — come fall. The network has decided to build the results show into the new two-hour once-a-week format, and ABC Entertainment Group President Paul Lee has spilled the details on why that decision was made, as well as teased some other major changes in store for the popular reality series.
"We think that by taking the results show and building it into the two hour block from 8 to 10 on Monday nights, we can really build a sense of occasion to that and drive viewership to Monday night," he reveals. "We're focusing our energies on Monday, and we have very, very strong development this year, so that allows us to put [Joss Whedon's 'The Agents of S.H.I.E.L.D.' ] in at 8 on Tuesday, which we think is a perfect place for that show. So it's a one-two punch for us."
As for what else viewers can expect from "Dancing," Lee says too look for casting that will help bring down the audience's median age. "One of the critical things each cycle is to make sure that we nail the casting," he says. "You saw us aging down 'Bachelor' this year with some spectacular casting, so certainly, we're going to make sure, as we focus on Monday, that we focus as well on casting that can help us age it down."
But that's the only tease the exec would reveal — for now! "Our guys and friends over at ABC… have a number of great ideas about this, and we're going to announce later exactly how we're going to play it out," he promises. "They've got some great ideas. I just don't want to jump the gun until they've nailed it."