"Seeing my cast come in one-by-one. Seeing David Canary, seeing Cady McClain, seeing Jill Larson, Debbi Morgan…it just made it all the more real," says Ginger Smith, executive producer, "All My Children," in the newly released "First Day of School" video by iTunes set to music by Raphael Lake/Ben Fisher with their song "Light It Up." The EP and her cast members comment on the show returning to production nearly six weeks after it was first announced by Prospect Park's The OnLine Network that the soap along with "One Life to Live" would be returning to the airwaves in more than one shape or form once again this spring (later revealed to be April 29, 2013 via Hulu, Hulu Plus and iTunes).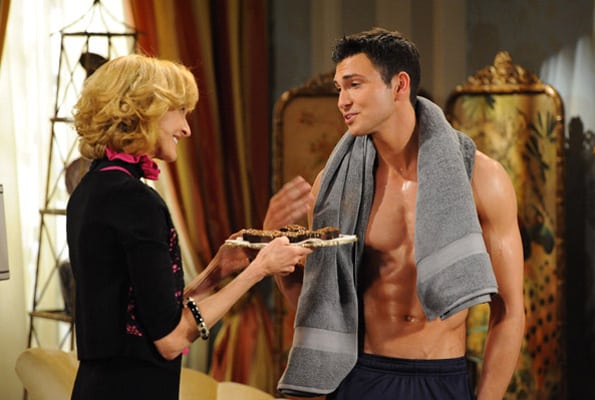 During the February 25 production meeting prior to resumption of filming, co-executive producer, Jeff Kwatinetz, who is also the Chairman/CEO and Co-Founder of Prospect Park said, "Thank you, if anyone needs anything…I'll be around for the next 41-years, I hope."
With the first filmed scenes of the online reboot of the series surrounding the return of Pete Cortlandt (Robert Scott Wilson) to Pine Valley as he and his mother Opal (Jill Larson) share a long over due hug, things get a little noisy. The stage manager nipped things in the bud when she said, "Folks just a reminder. Once you hear those three bells, that means absolutely no noise. We are re-doing this scene for noise. Hopefully this will never, ever happen again."
"I would say just tune in because there are going to be a lot of surprises. This isn't necessarily going to be your mother's 'All My Children,'" says executive producer, Ginger Smith.
To View the Full Video (2 minutes in length) download for free on iTunes.
In Related News 
With "Whatcha Say (Two Fingers Up)" by The New Black Tea featuring Kyle Richardson playing in the background, fans of "All My Children" and "One Life to Live" are introduced to the behind the scenes personnel that help make the towns of Pine Valley, Llanview and all their characters come to life each and every episode as The OnLine Network also released a "Meet the Crew" video on iTunes.
From executive producers Jennifer Pepperman ("OLTL") and Ginger Smith ("AMC"), to "AMC" supervising producer Sonia Blangiardo, the art directors, the directors of photography and more, fans are in for a real treat.