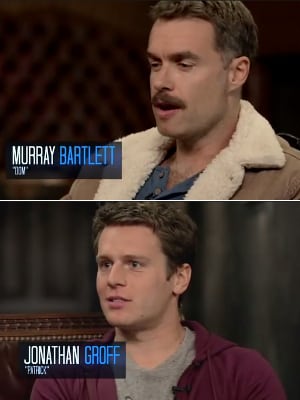 Detailing relationship woes, roommate drama, reaching a certain age and much more, "Looking" seeks to provide viewers with a different perspective on daily life for gay men in San Francisco when it premieres on Sunday, January 19, 2014 at 10:30 PM ET/9:30 PM CT on HBO. Starring former soap actors Jonathan Groff (ex-Henry, "One Life to Live;" Jesse St. James, "Glee") and Murray Bartlett (ex-Cyrus Foley, "Guiding Light"), along with actor Frankie Alvarez ("Kitchen Confidential"), the series follows 29-year-old Patrick (Groff), a video game designer getting back into the dating world in the wake of his ex's engagement, 39-year-old Dom (Bartlett), a longtime waiter who has yet to reach his romantic and professional dreams, and 31-year-old Agustín (Alvarez), an aspiring artist questioning the idea of monogamy amid a move to domesticate with his boyfriend. In preparation for the shows launch, HBO has released several trailers to entice viewership as well as providing audiences with a closer look into the behind the scenes world of "Looking" with cast interviews. To learn more about the series, read on.
In "Invitation to the Set," Groff, Bartlett and Alvarez along with the creative minds behind the series explain the core characters and their decision making process, why the show opted to film in San Francisco, instead of a Hollywood set that pretends to represent the city, and how the tone and energy of the show tells stories differently from ever seen before previously.
Created by Michael Lannan and executive produced by Sarah Condon ("Bored to Death") and Andrew Haigh, "Looking's" cast is rounded out by a host of dynamic gay male characters including Kevin (Russell Tovey), Lynn (Scott Bakula), and Richie (Raul Castillo), as well as a wide-range of supporting characters like Dom's roommate Doris (Lauren Weedman), Agustín's boyfriend Frank (O.T. Fagbenle), and Patrick's co-worker Owen (Andrew Law).
Trailer #2

Trailer #1

Tease