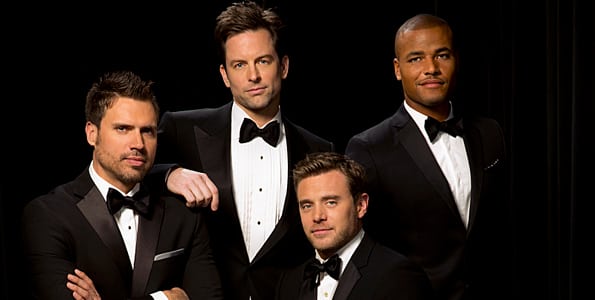 via Press Release
"THE YOUNG AND THE RESTLESS" LAUNCHES "WATCH AND WIN" SWEEPSTAKES OFFERING FANS
CHANCE TO WIN ALL-EXPENSES PAID TRIP TO MONTE CARLO
Attend a Star-Studded Gala Celebrating Show's 40th Anniversary
And Join Cast Members for a Special Meet-and-Greet

LOS ANGELES, April 1, 2013 – Are you the biggest fan of THE YOUNG AND THE RESTLESS? If so, you could be on your way to Monte Carlo, where you'd mingle with cast members in a special gala celebrating the show's 40th anniversary.

Daytime's #1 drama today launches a unique "watch and win" sweepstakes: Viewers simply watch THE YOUNG AND THE RESTLESS, then go to a special 40th anniversary Y&R Monte Carlo website at cbs.com/yrMonteCarlo to answer a trivia question.

If they answer it correctly, fans have a chance to win an all-expenses-paid trip to Monte Carlo, where they could attend a star-studded exclusive Y&R 40th Gala Party and also chat with cast members at a special meet-and-greet event.
The contest is open until April 21 and is the latest in a series of celebrations surrounding the show's 40th anniversary. One entry per correct answer for a maximum of 15 entries per person.

NO PURCHASE NECESSARY. Open to legal U.S. residents at least 18 or age of majority, whichever is older, at time of entry. Contest ends on April 21, 2013. Void where prohibited by law. See full rules at cbs.com/yrMonteCarlo.

THE YOUNG AND THE RESTLESS has been the #1-rated daytime drama for more than 24 consecutive years. The show is broadcast weekdays (12:30-1:30 PM, ET; 11:00 AM-12:00 Noon, PT) on the CBS Television Network and is produced by Bell Dramatic Serial Company, in association with Sony Pictures Television.

CBS Daytime has been #1 in the daypart for 26 consecutive years, featuring a lineup that is a balance of dramas, game shows and talk. The network's daytime lineup includes television's #1 daytime program and longest-running game show THE PRICE IS RIGHT, THE YOUNG AND THE RESTLESS, THE TALK, THE BOLD AND THE BEAUTIFUL and LET'S MAKE A DEAL.