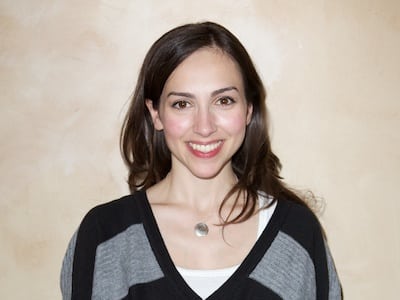 After recently returning from her maternity leave, Eden Riegel has been let go as Heather Stevens on CBS' "The Young and the Restless" and apparently she was the last to know. In April of 2010, Riegel had taken over the role when Vail Bloom was also let go.
The interesting part of the story started to break yesterday afternoon when Riegel replied to a tweet asking about her exit from Y&R. "The reports of my death are greatly exaggerated. I hope" tweeted Riegel at about 2:30 EST. Just a couple of hours later she returned to twitter "It's not for me to say they're wrong but I have not been told of my departure. Boy would that be embarrassing!"
Boy was Riegel right, that would be embarrassing and when she returned to twitter an hour later she would confirm what had been circulating around the internet all day. "Oops. I take it back. Apparently my run on Y&R is soon coming to an end. It was a fun ride!" she tweeted with class. The sickening feeling in our stomachs here at Soap Opera Network of how this happened can not compare of what Eden Riegel must have felt when she indeed learned that it was true.
You have to question how they let something like this happen? A total disgrace and an embarrassment to treat their talent like this. With stories breaking on the internet and everyone looking to break exclusive scoops, this sort of thing should not be happening.
As Soap Opera Network was putting together this piece, Eden returned to twitter again stating "I have to say I was a wee bit bummed. But looking at Jack makes it hard to be down about anything." Eden and family also have something else to look forward to this week as her husband Andrew Miller's new show "The Secret Circle" premieres on The CW.
Soap Opera Network wishes Eden Riegel all the best and we have no doubt she will land on her feet. When one is as talented as her, it does not take long to land on your feet.