A character proclaims, "Pine Valley lost a part of its soul that night, but today the sun shines bright." That day in particular is Monday, April 29, when "All My Children" premieres with all new episodes via Hulu, Hulu Plus and iTunes with Pine Valley's citizens having picked things up five years after that traumatic night Adam Chandler (David Canary) and Brooke English (Julia Barr) celebrated their engagement and a shot went off. Fans will quickly be able to jump right back into the soap where "cute, sexy, action and adventure, romance and sex" may be a simple way to summarize the storytelling on any given daytime soap, but on "AMC" things are just all the better.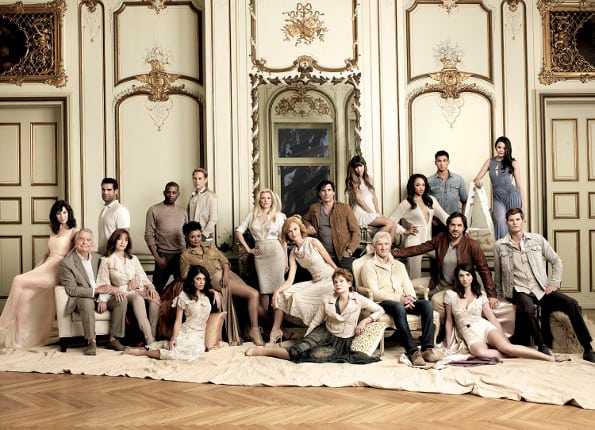 THE THEME
Titled "We Are the Love We Give" by Imaginary Friend, the new opening theme looks nothing like you've ever seen an "AMC" theme look like before. Yes, the iconic book is back, but not as prominent as one probably would like. The opening begins with scenery shots of Pine Valley with moving poses of Opal by herself, followed by Dixie/JR, Miranda/AJ, David/Cara, Jesse/Angie, Cassandra/Jane, Celia/Pete, Evelyn, Lea/Zach and finally Adam/Brooke.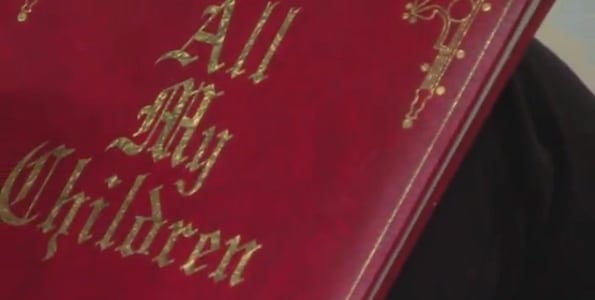 After watching the First Look preview with the song playing in the background, one will probbably have already learned the lyrics to the point that when it first starts playing during each episode they would have already adjusted to it. If they haven't, one can always preview the song on iTunes by clicking here (or by purchasing the song for $0.99). One thing that does stand out is the pose featuring David Hayward and Cara Castillo outdoors with Vincent Irizarry and Lindsay Hartley just oozing the sexual chemistry while looking towards "AMC's" viewers. If you weren't a fan of their coupling before, you may become one now. They are just, WOW!
THE VISUALS
This is no Peapack, NJ and "AMC" is no "Guiding Light" (its latter years). Used prominently in its first episode, fans are treated to outdoor scenery in spades with fast expensive cars, characters taking cabs, introductions between potential lovers taking place in front of town shops and more. While much of sister soap "One Life to Live" takes place at night for their first episode, "AMC" takes place during the day (re-read paragraph one). The on location scenes and the actual sets used in studio merge well together while the music/beats used to emphasize an action or an almost missed moment places viewers right where they need to be. Ultimately, "AMC" does not look like the soap you remember seeing on ABC while at the same time still remains "AMC."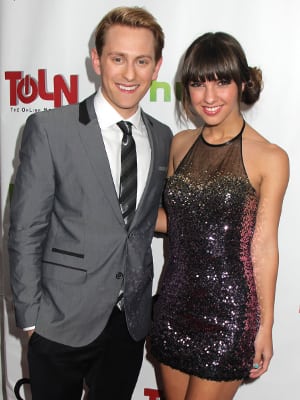 THE CHARACTERS
There are new characters to root for and old characters to cheer on. Miranda Montgomery (Denyse Tontz) and AJ Chandler (Eric Nelsen) for instance are now aged, but have the strong bond one would expect from the children of Bianca Montgomery (Eden Riegel) and JR Chandler (Ryan Bittle). Their bond is very evident from the first scene you see them in to the last scene. Almost immediately you get the impression that their portrayers are very comfortable with one another and you can't help but root for a possible pairing between the two characters in the way most soap opera pairings begin. The "teens" truly look and act like teens in high school.
Meanwhile, Cara and her bother Griffin Castillo (Jordi Vilasuso) look and act like they work at a hospital as doctors and not the typical "soap" doctors who are put in a hospital setting just to pretend that the show has people who work in hospitals and treats every patient for every little thing. Angela Baxter Hubbard (Debbi Morgan) as she's lovingly called by husband Jesse Hubbard (Darnell Williams), helps remind viewers why she and Jesse became such a huge pairing in the 1980's with their little family having grown since the olden days with the inclusion of Frankie, Natalia, Lucy and Cassandra Foster (Sal Stowers). While discussing such familial matters with each other, it feels refreshing to see a soap actually have everyday real life conversations between characters with nods to history and nods to the future. These characters talk about doing real things like simply buying food from the grocery store for that nights dinner and it fits naturally. They aren't just saying what they are doing just to progress story. They are saying it where you feel like you're about to embark on a journey with them.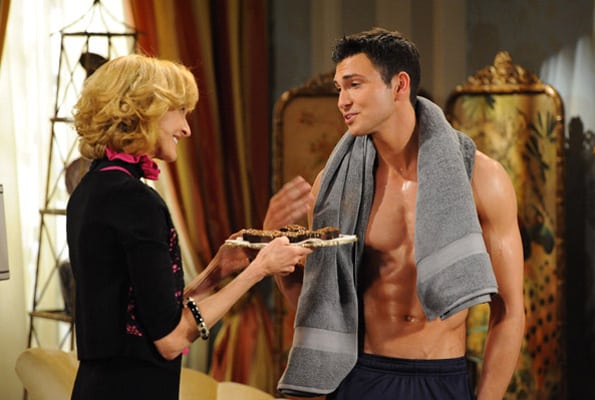 "You'll always be Petey, so get used to it," says Opal Cortlandt (Jill Larson) to her son Pete (Robert Scott Wilson) who has returned to Pine Valley. Initially, one may have worried that a relatively unknown actor such as Wilson wouldn't be able to pull off portraying the son of Opal and Palmer Cortlandt (the late James Mitchell), but the actor does it well and immediately gets one interested in the possible dynamics between Pete and Celia Fitzgerald (Jordan Lane Price). Celia screams the modern day Erica Kane (Susan Lucci) in the sense that there's something in her past that you can't wait to see revealed while wanting her to get whatever she wants and if she may want her some Pete, let the girl have at it. Of course, Francesca James as Evelyn Johnson might be putting a stop to the potential love birds with a little help from the Trojan man.
PRODUCT PLACEMENT
Soaps are probably less known for their use of product placements in episodes than their primetime counterparts, but with iTunes providing millions of potential viewers with access to new episodes of "AMC" and "One Life to Live," the use of iPads, iPhones and even MacBooks are notably featured. In fact, on "OLTL" viewers are also given the opportunity to see the cover of Vogue Magazine.
To put you in the mood for more "All My Children" and its theme music, watch the video preview below: