With just 28 days left before the launch of "All My Children" and "One Life to Live" on Hulu and Hulu Plus, fans can now get themselves prepared for the iTunes launch of their favorite TOLN soaps. Just a short time ago iTunes released its first teaser of the soaps as the cast responds to their super glamorous photo shoot. Per the description, "the full casts of 'All My Children' and 'One Life to Live' come together for their first photo shoot. Watch interviews with your favorite actors, and meet the electrifying new stars."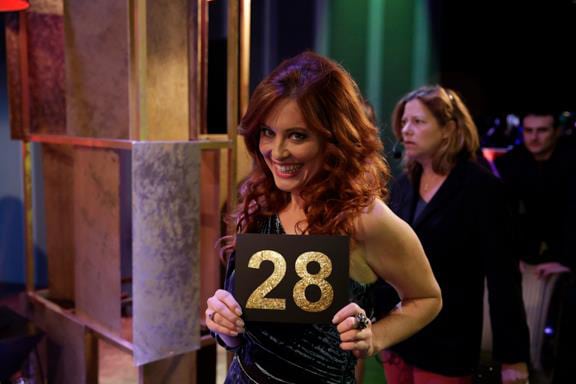 To watch the free video, you must download it from iTunes for "AMC" or iTunes for "OLTL."
Also unveiled was the iTunes description of each series (warning: includes spoilers)
The OnLine Network/TOLN

Love, excitement and suspense return to Pine Valley with the Chandlers, Cortlandts, Martins and Hubbards. Revisit the lives of core characters who've inhabited the landscape for decades along with a younger generation that promises twists and turns of its own. Follow JR as he comes to grips with his past and meet his teen-aged son, AJ, who might just break the cycle of dysfunction that has plagued his family for years. Follow Pete Cortlandt as he falls in love with a girl named Celia who has a dark past even she doesn't know about. Get re-acquainted with Angie and Jesse and see them tested by tragedy and loss. Witness the return of Zach and David and follow the emotional journey of Bianca's daughter Miranda, whose own mother lived in the shadow of the great Erica Kane but who is determined to forge her own path, on her own terms. All that and more begins on April 29th…
The OnLine Network/TOLN

Intoxicating, character driven drama One Life to Live is back with all new must-see episodes. One Life to Live is filled with action, romance, comedy, and pushes the boundaries of entertainment by exploring cutting edge social issues. Viki, Dorian, Todd, Blair, the Buchanans and the Lords — all the icons of Llanview — are joined by gorgeous, hot stars of tomorrow in the all-new One Life to Live. At the start, Viki's sexy, young reporter Jeffrey King uncovers a scandal that ends Dorian's senatorial career. Of course, Dorian blames Viki, reigniting and exploding their feud to epic proportions. Meanwhile danger follows Todd to town in the form of a mysterious, evil organization signified by a sinister tattoo…and a deadly agenda. Blair and Cutter's popular new club Shelter places Llanview on the map with DJ's, singers and cameo roles played by the biggest names in show business today. The new One Life to Live has beloved characters from the show that ran on network television for 43 years plus the contemporary look, feel and style of an edgy new hit.
"All My Children" and "One Life to Live" premieres Monday, April 29 on Hulu, Hulu Plus and iTunes.