SOAPnet's 50 Years, 51 Episodes, 50 Hours 'GH' Marathon Schedule
Disney/ABC Television Group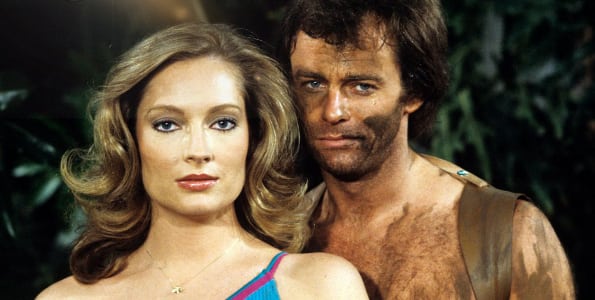 12:30 AM [Episode # 7,833; Year 1993] – Just as their raft is headed over the falls, Luke and Laura are saved by a helicopter; Jason and Brenda feel guilty when they realize the truth about Karen.
1:30 AM [Episode # 7,913; Year 1994] – Luke and Laura tell Lucky he's going to be a big brother; Steve and Audrey help Miguel get a job at the Outback; Robin and Stone are excited to learn they're both in Jagger and Karen's wedding party; Brenda and Sonny flirt at Kelly's.
2:30 AM [Episode # 11,164; Year 2006] – After awakening from her coma, Laura has an emotional reunion with her family; Ric devises a plan to falsify evidence and frame Sam; Alexis agrees to let Sonny and Carly take car of her kids while she's in the hospital.
3:30 AM [Episode # 17; Year 1963] – Doctor's Hardy and Brewer work on a difficult case; Peggy tells Jessie about her difficult break-up with Dr. Hardy and Jessie confides in Peggy that she's insecure about the age difference between herself and her younger husband, Phil Brewer.
4:00 AM [Episode #237; Year 1979] – As Lesley struggles to help Monica give birth at home, Monica blurts out that Rick is the father of her baby; Alan and Rick rush through a storm to try and save Monica and her son; Edward and Tracy fear for the worst.
5:00 AM [Episode # 88; Year 1980] – Rick and Lesley are both hurting on the day of their divorce; Jennifer invites Laura and Scotty for a day of sailing with her and Luke; Dan is frustrated with Jessie's continued refusal to marry him; Jeff wonders about his future with Anne.
6:00 AM [Episode # 112; Year 1980] – Monica gets a blood test to try and prove that Alan is her baby's father; Luke storms over to confront his boss, Frank Smith, for lying and leaves Bobbie and Ruby afraid for their futures; Amy tells Alan she'll keep his secrets.
7:00 AM [Episode # 124; Year 1980] – At the Fourth of July party, Scotty and Laura make plans for their first anniversary; Bobbie covers for Luke so he can search Frank Smith's office for the black book; Monica wants Alan to admit he tried to kill her and Rick.
8:00 AM [Episode # 146; Year 1980] – On the run from Frank Smith, Luke and Laura take time out to spend a romantic night together dancing in Wyndham's Department store unaware that Hutch is there too.
9:00 AM [Episode # 21; Year 1981] – Heather sneaks out of the sanitarium and prepares to kill Diana; Jeff is furious with Diana when she finally tells him that PJ is Steve Lars; Alan shows Susan the new love nest he's bought for her.
10:00 AM [Episode # 142; Year 1981] – Luke, Laura and Robert make themselves comfortable on the island – until they discover that the Cassadine's are directly underground; Tiffany is furious that Victor and Mikkos won't allow her outside; Hutch and Rose grow closer; Jessie and Dan offer their support to Rick and Lesley.
11:00 AM [Episode # 171; Year 1981] – As zero hour approaches, will Luke be able to crack the code for the weather machine and save Port Charles? Laura and Robert convince Victor to help their cause; Noah, Anne and Rose attend to those in need at Kelly's Diner.
Note: Episode numbers are based on information released to Soap Opera Network by SOAPnet. Episodes pre-1990 were coded based on episodes for the corresponding year in which they aired.