SOAPnet's 50 Years, 51 Episodes, 50 Hours 'GH' Marathon Schedule
Disney/ABC Television Group
12:00 PM [Episode # 211; Year 1981] – Luke and Laura arrive at the Whitaker's farm for their honeymoon; Scotty continues to rage about Luke and Laura, much to Lee and Gail's dismay; Robert is hesitant to commit to Tiffany.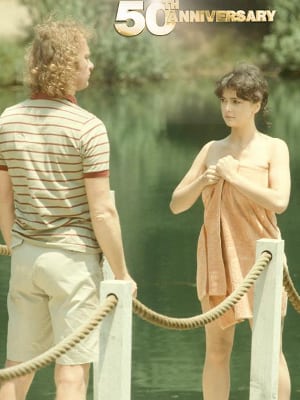 1:00 PM [Episode # 14; Year 1983] – Holly agrees to marry Robert so she won't be deported; Luke recovers from surgery; Susan is outraged when she discovers Scotty's interference with baby Jason's investments; Blackie finds a place to hide Lou.
2:00 PM [Episode # 84; Year 1983] – Luke and Holly have a confrontation when he returns to Port Charles and learns she's now married to Robert; Blackie and Lou are relieved when Rose is legally named as Lou's guardian.
3:00 PM [Episode # 160; Year 1984] – Frisco pulls the hat off the thief in his apartment and reveals Felicia; Jimmy Lee is convinced that Beatrice was murdered and the Quartermaine's are involved; Robert questions Holly hoping to gain some inside information.
4:00 PM [Episode #114; Year 1986] – Frisco serenades Felicia as they're married at the brownstone; Sean arranges a special wedding night for the newlyweds; Alan tries to catch Sean and Monica having an affair; Anna is intrigued by Port Charles newcomer, Duke Lavery.
5:00 PM [Episode # 7,133; Year 1991] – Robert and Anna's desire to exact revenge upon each other turns passionate; Frisco is amused when he has to set Robert free from Anna's trap; the protest against the ELQ ship goes awry; Robert is shocked to discover the man he's just rescued is his brother.
6:00 PM [Episode # 7,967; Year 1994] – When an elated Frisco tells Tony they've found a heart donor for Maxie, Tony has to break the news that it's BJ's; Tony insists on being there for the procedure and shares a tearful goodbye with his daughter.
7:00 PM [Episode # 8,152; Year 1995] – Monica is uncomfortable with the idea of sex with Alan after her mastectomy; Mac is furious with Robin when she admits to having slept with Stone; Brenda gives advise to Stone.
8:00 PM [Episode # 8,220; Year 1995] – Luke and Sonny take out Scully's men in a shootout at Luke's house; Stone worries that his HIV positive blood has gotten on Robin; Brenda is scraped up and scared, but alive; Frisco and Felicia make love.
9:00 PM [Episode # 8,361; Year 1995] – Stone sees Robin one last time before he dies; Sonny offers his support; Lucy is convinced that Sigmund the duck is trying to tell her and Kevin that something is wrong.
10:00 PM [Episode # 8,381; Year 1995] – AJ fights with his family and storms off in a drunken rage; Jason tries to stop him from driving, but AJ won't listen and the two end up in a fateful car crash; Brenda joins Robin and Sonny as they scatter Stone's ashes.
11:00 PM [Episode # 08403; Year 1996] – The Quartermaine's are shocked at Jason's hostility towards them after his accident; Robin tells Brenda she's attending Sonny and Lily's wedding; Lois is determined to find a way for Ned to still sing in the band.
Note: Episode numbers are based on information released to Soap Opera Network by SOAPnet. Episodes pre-1990 were coded based on episodes for the corresponding year in which they aired.