"The Bold and the Beautiful" and CBS have joined together in an effort to raise money for the American Red Cross Hurricane Sandy relief fund.
Beginning Friday, November 30 through December 18, 2012, four simultaneous auctions will take place in which each winner will receive a brooch worn by Susan Flannery, who just ended her 25 year run on the drama series as Stephanie Forrester, and an exclusive behind-the-scenes tour of the world's most watched daytime serial.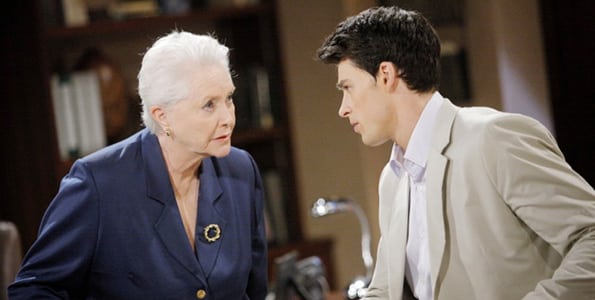 All proceeds from the auction will go to the American Red Cross as it works overtime to assist those affected by Hurricane Sandy. To join in on the auction, click here.
Rules / Terms and Conditions
Winner will receive one of "Stephanie Forrester's" iconic brooches, as worn by Golden Globe and Emmy® award-winning actress and The Bold and the Beautiful(B&B) original cast member Susan Flannery. The winner and one guest will also enjoy an exclusive behind-the-scenes tour of the set of B&B.

Daytime legend Susan Flannery appeared on B&B as the fiercely protective "Forrester" family matriarch from the show's premiere in March of 1987 to November 26, 2012.

In addition to the jewelry itself, the winner will receive a photo of Susan from an episode of The Bold and the Beautiful wearing the brooch. The guided behind-the-scenes tour for two will include visits to the glamorous B&B hair, makeup and wardrobe departments as well as spending time on Stage 31 watching taping of The Bold and the Beautiful. The winner and their guest will be able to meet some of the cast who may be working that day and take photos and obtain autographs as production and availability permit. Along the way the winner will see some of the famous studio space and stages inside the historic CBS Television City studios in Hollywood.

The Bold and the Beautiful, which celebrated its 25th anniversary on March 23, 2012, is a Bell-Phillip Television production, broadcast weekdays (1:30-2:00 PM, ET; 12:30-1:00 PM, PT) on the CBS Television Network. Bradley P. Bell is the Executive Producer and Head Writer.

Terms: In condition as donated. Cannot be returned or exchanged. Additional shipping charges may apply based upon the location of the winner. Travel and accommodations are not included. We expect all winning bidders and their guests to conduct themselves appropriately when attending an experience won at Charitybuzz. Polite manners and respect for the generous donor and adherence to any rules or parameters are a must.

Shipping and Handling: The minimum shipping, handling and applicable insurance for this item is $19.95. Additional shipping charges may apply based upon the location of the winner. Hard copies of tickets, travel certificates and merchandise are shipped via FedEx or professional shipping service. Detailed redemption information for non-tangible items will be emailed to the winning bidder.

Donated by: The Bold and the Beautiful / CBS