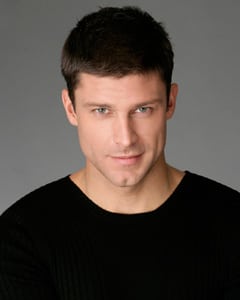 Best known for his portrayal of Lucky Spencer on ABC's "General Hospital," actor Greg Vaughan has joined the cast of NBC's "Days of our Lives" in the contract role of Eric Brady. Vaughan tweeted a picture of his first day arriving at the shows Burbank Studio lot on Wednesday, August 8, where he said to his followers, "Here's to to new beginnings's!!"
For those new to "Days of our Lives," or if you have forgotten, Eric Brady is the twin brother of Samantha "Sami" Brady (Alison Sweeney). He was last seen in town in July 2000 and was the first love interest of Nicole Walker (Arianne Zucker), which was the basis of Sami's long standing feud with Nicole. The role was previously portrayed by "Supernatural" star Jensen Ackles.
Ironically, despite Vaughan signing on to play Sweeney's on-screen twin brother, the two actors began filming the Hallmark Channel original movie "Two In" in late June. The film finds Sweeney portraying a single mother working at a 911 call center who answers an emergency call from a firefighter (Vaughan) in desperate need of help after he broke his leg while fighting a fire. As the two find themselves drawn together due to circumstances beyond their control, they begin to wonder where their mutual attraction will take them. The film is set to have its world premiere on the Hallmark Channel sometime in 2013.
Based on the current filming schedule for "Days of our Lives," fans of the series can expect to see Vaughan on-screen as early as November.
In addition to his stint on "GH," Vaughan also appeared as Diego Guttierez on "The Young and the Restless" and most recently appeared in ABC's primetime soap "GCB."