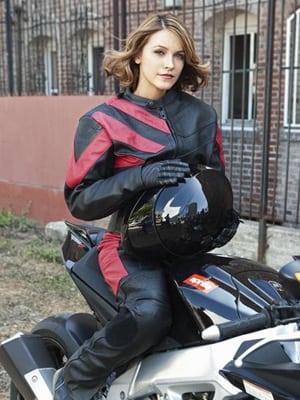 (SoapOperaNetwork.com) — "All My Children" alumna Chrishell Stause recently chatted with TV Line about a multitude of topics including her guest-role on ABC's "Body of Proof" slated to air tonight. The bodacious actress also discussed some past regrets and her future plans.
Several weeks ago, Stause applauded co-star Susan Lucci on Twitter when daytime's biggest name made the surprising revelation that she had made a counteroffer to Prospect Park in early September but had not been contacted since. The statement was made following months of sources indicating difficult negotiations between [Lucci] and the production company were the reason for "AMC's" production stall. Stause elaborated on her original sentiment to TV Line, adding "to be honest with you, that Prospect Park thing was such a disaster. They came to people and gave one offer, and when it came time to renegotiate they never came back to the table. It wasn't the actors that weren't trying to make something work." Stause is sorry fans didn't get to see the original ending creator Agnes Nixon and head writer Lorraine Broderick penned. The actress adds, "we all had these vignettes that were beautiful and really great." She affirms that at least part of that episode was filmed – before the script was changed to comply with an impending online future – including scenes with her and her on-screen mother played by Kate Collins.
Currently on the plate for Stause is preparation for pilot season which officially begins in January. In pilot season, which lasts through April, new dramas and sitcoms begin filming pilot episodes in hopes of being picked up for the following season of programming on the networks and cable. The actress just completed a course at the Groundlings which has helped launch the careers of comedians Phil Hartman, Lisa Kudrow and Jon Lovitz. Stause also will begin taping the second season of the intense psychological thriller "Luke 11:17" in February. She also appeared in the first season of the web series that debuted in 2009.