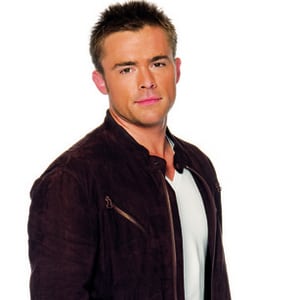 (SoapOperaNetwork.com) — A look at what's happening on "One Life to Live" during the week of November 21, 2011.
THIS WEEK ON: ONE LIFE TO LIVE
On Monday, November 21, Brody threatens John and Natalie at gunpoint. John manages to reason with Brody. John and Natalie return home with the infant. Roxy continues to push John to talk to Natalie. Jessica, Roxy, and Shane each try to cheer up Brody. Elsewhere in Llanview, Mayor Finn reminds Bo of their deal. Still in a coma, Matthew narrates the tale of Thanksgiving 2011. Bo and Nora spend the holiday at their son's bedside. Rick plants a rumor that Nate and Starr are having an affair on Tuesday, November 22. The teens pounce on Rick. Jessica and the children have fun with Ford. Natalie and Jessica share a sisterly moment on Wednesday, November 23. Clint tells Shane he's sorry. Viki and Clint share a wishbone. And someone dies.
NOTE: On Thursday, November 24, "One Life to Live" will air an encore presentation of the September 2, 2011 episode, where Kim learns her brother is in Llanview, Cutter receives a surprise visit from his sister, and Viki talks to Todd about Victor's murder. "OLTL" will not air on Friday, November 25.
The Inside Story: Unwelcome Guests
Todd catches Tomas by surprise at the warehouse on Monday, November 21. Blair talks to Starr about the men in her life. Dani learns her mother is pregnant. Jack is still claiming that Todd killed Victor. On Tuesday, November 22, Todd and Baker team up against Tomas. Blair learns that Tomas on the trial of Victor's killer. Téa warns Blair not to break her brother's heart. Tomas appeals to Todd's guilty conscience. And Blair invites the Delgados to Thanksgiving dinner.
A Closer Look: Familiar Faces
Rex and Aubrey just miss Stacy and Cutter at Dr. Fascinella's office on Monday, November 21. Stacy convinces Cutter not to strangle Alex. Rex and Aubrey work to coax information out of the doctor's receptionist, and wonder if Cutter's friend had surgery to look like Gigi. Rex comes to a realization and comes up with a plan. Meanwhile, Cutter involves his mother in his latest scheme on Tuesday, November 22. Rex and Aubrey put their plan in motion, only to find someone unexpected waiting for them. And on Wednesday, November 23, Shane tells Roxy he knows why Rex went to Brazil.
OLTL ALERTS: WEEK OF NOVEMBER 28, 2011

The lives of one family are changed forever.
John and Natalie makes plans to talk about their relationship.
Rick's actions could prove disastrous for someone close to Starr.
Todd cozies up to Blair by supporting Tomas.
Is Jack's attitude toward Todd starting to soften?