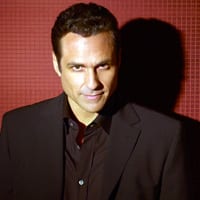 (SoapOperaNetwork.com) — A look at what's happening on "General Hospital" during the week of November 21, 2011.
THIS WEEK ON: GENERAL HOSPITAL
Maxie and Matt mix business with unexpected pleasure on Monday, November 21. Sparks fly between Delores and Johnny as the pair discuss crime and punishment. On Tuesday, November 22, effected by her discussion with Olivia, Lulu finally seems to get back on track with Dante. Will fate soon impede upon Lulu's progress? Luke slips out when Lucky arrives to reunite with Aiden. Lucky and Tracy worry about Luke's next move. Tracy's disappointed by the suitor who arrives to keep her company on Thanksgiving on Wednesday, November 23.
NOTE: On Thursday, November 24, "General Hospital will air an encore presentation. "GH" will not air on Friday, November 25.
The Inside Story: Forget You Not
Sam tries to distract herself by focusing on Michael's problems. Jason warns Carly that Franco still poses a real threat to her and Josslyn. Shawn's single-minded focus agitates Carly. Franco prepares another surprise. Monica, meanwhile, invites Jason and Sam to the Quartermaine Thanksgiving. Shawn prepares a special feast for Carly. Jason and Sam remain profoundly haunted despite their efforts to move forward. Jason flips out at the Quartermaine Thanksgiving celebration on Wednesday, November 23. Franco leaves a gift for Josslyn.
A Closer Look: I Love You (Not)
On Monday, November 21, Kate realizes Sonny is going away to officially end his marriage to Brenda. Sonny makes a slight alteration to his plans and arrives to see Kate with a surprise. Dante confronts Kate about her involvement at the warehouse where he was shot. Sonny orders Dante to back off. Kate and Sonny arrive at a special destination. Later, Sonny is surprised to find Kate's hotel room empty.
GH ALERTS: WEEK OF NOVEMBER 28, 2011

Sam tries to calm Jason down.
Kate helps Sonny face the past.
Mac finds a distraught Robin.
Dante is assigned a new partner.
Elizabeth's reaction to Luke shocks everybody.