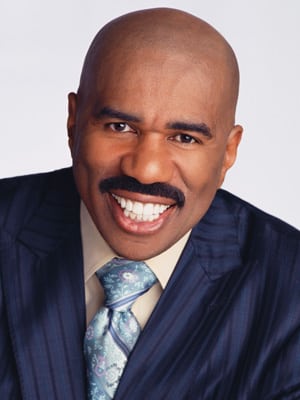 Beginning in September 2012, ABC affiliate WFTV in Orlando, Florida will begin airing a new daily syndicated talk show from comedian and radio host Steve Harvey reports the Orlando Sentinel. The affiliate plans to launch the program in the soon to be vacated 3:00 PM timeslot, which will be ceded to affiliates nationally by the ABC Television Network at that time. Does this mean to ultimate demise of "General Hospital," which currently occupies the timeslot? Before you say yes, let's take a moment to think rationally.
As previously reported, the Disney/ABC Television Group (herein after referred to as the DATG) announced in June of this year that it plans to launch a new daily syndicated talk show of its own with Katie Couric as host. Appropriately titled "Katie," the Couric hosted talker is already cleared to air on more than 60% of the country on a number of ABC affiliates including the ABC O&O stations in New York and Los Angeles (WABC and KABC, respectively). Although the initial idea was to give ABC affiliates a new program to air in the current "GH" slot as well as provide DATG with a broader profit share than that of a soap opera, the DATG's ultimate goal is to make money. With "Katie" syndicated, any affiliate including affiliates from NBC, CBS, FOX, etc could pick up the series. This was confirmed on Monday, October 24 when the company announced that Seattle's NBC affiliate KING had picked up "Katie" over the ABC affiliate KOMO. With news of WFTV picking up Harvey's talk show, word leaked that NBC's competing Orlando affiliate WESH Channel 2 had chosen to pick up Katie's show, although there is no guarantee the station will air "Katie" at 3:00 PM as planned by the DATG in much of the country. So what does this mean for "General Hospital?" At no point has ABC or the DATG announced that "General Hospital" has in fact been canceled. This has been made ever more clear as a network spokesperson has repeatedly reminded us and our readers of the following:
"The announcement does not mean the inevitable cancellation of 'General Hospital.' Rather it means that in September 2012 we will program our daytime block with our three strongest shows. We'll have options for the Daytime daypart just like we do each year with Primetime. We believe in all of our shows and the ones that our viewers want, will be the ones that continue. There are MANY options that could happen…only time will tell…we are simply giving ourselves options for the future, which is a smart way to do business. The best way to ensure a favorite show stays on the air is to watch it."
While that statement may not help calm the fears of the fans of "General Hospital" from thinking the end is near, the fact that WFTV has picked up Steve Harvey does not mean that the soap will be canceled just because various ABC affiliates are now announcing their post "GH" at 3:00 PM plans. Remember the affiliates didn't make the decision to stop airing "GH" in its current timeslot. Disney/ABC, when it announced its deal with Katie Couric in June, informed their stations that as of September 2012 they will no longer be providing a national network product in the timeslot for the first time in more than 48 years. WFTV, by not picking up "Katie," needed another program to air in the vacated timeslot as all the ABC affiliates will be doing beginning in September 2012. Some stations may find themselves airing other syndicated programs, including that from Steve Harvey, or even programming another hour of their local news. In fact, a North Carolina ABC affiliate is rumored to be putting on Anderson Cooper's new show in the "GH" slot beginning in September.