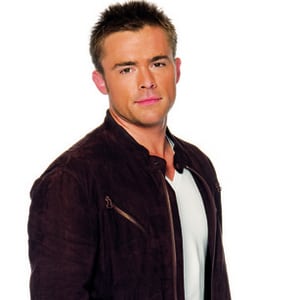 (SoapOperaNetwork.com) — A look at what's happening on "One Life to Live" during the week of October 31, 2011.
THIS WEEK ON: ONE LIFE TO LIVE
Cord and Tina give in to temptation on Monday, October 31. Rex gets more than he bargained for at the Buchanan stables.  Cord confides in Clint, and thinks his father still has eyes for Viki. Tina thinks Cord should be Brody's best man. Natalie nearly overhears Roxy talking to John on Thursday, November 3. Tina tells Natalie how she almost married the wrong man once. Roxy confides in Tina about John. Natalie tells Tina she's sorry.  On Friday, November 4, John sees Natalie in her wedding dress while Brody has a few choice words for John. Elsewhere in Llanview, Nora eases Destiny's fears about being a single mother. And Ford appears to be falling in love with Jessica.
The Inside Story: Happy Halloween
Sam asks Todd to go trick-or-treating with him and Blair on Monday, October 31. Todd considers confessing his feelings to Blair. Viki and Todd grill one another about Blair and Clint. Blair tells Starr she's torn between Tomas and Todd. Tomas vows to use his CIA training to find Victor's murderer. On Wednesday, November 2, the judge in the case makes a shocking decision regarding Victor's will. Blair and Tomas argue over Todd. Nora isn't convinced Todd is innocent. Jack is enraged to find Todd at The Sun on Thursday, November 3. Later he encounters Vimal's little sister Neela. Dani is concerned about her mother's health. Téa encourages Dani to get to know Todd. On Friday, November 4, Todd encounters Louie and offers to make a deal with him. Téa worries she may be pregnant. And Neela follows Jack, while Rama and Vimal search for the missing girl.
A Closer Look: A Case of Mistaken Identity?
Cutter and Stacy show up in costume at Natalie and Brody's party on Monday, October 31. Tina identifies the woman she saw at Llanfair. Natalie leaves  Aubrey with a warning. Shane unknowingly bumps into Stacy. Cutter whisks his lady friend away. Rex attempts to uncover the identity of Kim's friend. Bree inadvertently misplaces something of Clint's. On Tuesday, November 1, Aubrey and Rex inch closer. Stacy makes an admission about Rex. Rex arrives at the Minuteman Motel. Nigel has important news for Clint, who contemplates continuing his search for Kim. Cutter puts the next phase of his plan in motion. Stacy hides from Rex, who gives the unknown woman an earful on Thursday, November 3. Cutter confides in Rama. And Stacy has second thoughts about helping Cutter.
OLTL ALERTS: WEEK OF NOVEMBER 7, 2011

Natalie and Jessica's relationship takes another hit.
A fire breaks out at The Sun.
Todd watches Tomas and Blair kiss.
Bo and Nora brush up on their dancing skills.
Shaun is surprised by Vivian's views on marriage.