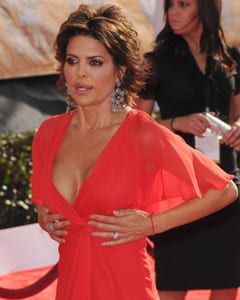 (SoapOperaNetwork.com) — Although a "Days of our Lives" representative was unavailable for comment to Soap Opera Network, Soap Opera Digest is reporting what The Huffington Post originally reported, which is Lisa Rinna is returning to the NBC soap in the role of Billie Reed. The actress originated the role in 1992, nearly twenty years ago.
The Huffington Post
"'Days Of Our Lives' has a great new team behind it, and they are determined to make sure the show not only survives but thrives," an insider tells me. "Part of the strategy is bringing out the big guns, which includes bringing back Lisa Rinna and Billie Reed."

"Lisa is doing a James Franco," the source says, referencing Franco's recent guest role on "General Hospital." "There is something full circle about bringing her back to the role that made her famous and now harnessing her celebrity to secure the future of the show."

[more]
Per the Post, Rinna's supposed scripts are being kept under wraps and anyone involved in her storyline are being told to keep quiet after learning they'll be working with her. The site states she'll begin shooting her episodes in December, which would place her first airdate as early as March per the current filming schedule the soap is under.
Rinna previously returned to "DAYS" in 2002 during the soaps failed attempt to recapture the novelty of her character. Although at no fault to the actress herself, the soap wrote her character as a cop at the Salem Police Department, which incensed fans – particularly fans of Bo (Peter Reckell) and Hope (Kristian Alfonso) Brady.